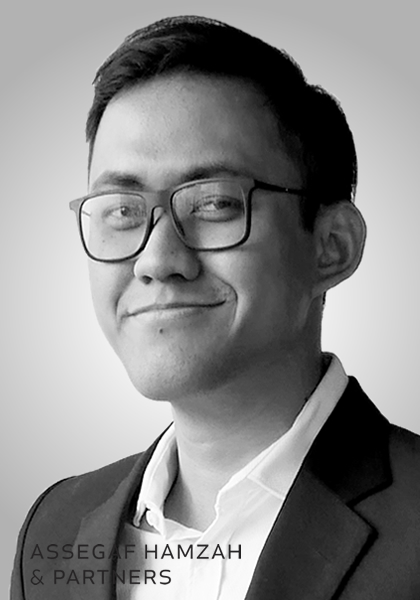 Achmad Faisal Rachman
Faisal earned his law degree in 2016 and shortly afterwards joined AHP in the same year. Prior to earning his law degree, Faisal gained a valuable working experience as a student intern in the Intellectual Property practice at a prominent law firm in Jakarta.

With a main focus in intellectual property, Faisal has been involved in a long list of intellectual property matters. Besides handling intellectual property registration at the Directorate General of Intellectual Property, Faisal also handles intellectual property advisory with respect to Indonesian intellectual property law, which includes infringements, counterfeits or look-alike matters. Faisal is also familiar with representing local clients in seeking overseas intellectual property protection and has also been involved in intellectual property litigation, including pre-action protocols.

Clients come to Faisal for assistance in obtaining intellectual property protection, as well as enforcement of their rights against unauthorised use, infringement, and counterfeiting committed by other parties.
Qualifications
LL.B., Padjadjaran University (2016)

Notable Cases & Transactions
Intellectual Property
Represented the biggest international football association on possible intellectual property enforcement with respect to the existence of ambush marketing;
Represented the second largest Indonesian telecommunications service providers in various intellectual property-related matters;
Represented a Malaysian animation company in filing a trademark registration, a response to objection of trademark registration and an opposition to the publication of trademark registration by third parties, with respect to well-known television animation characters;
Represented a Malaysian biscuit maker company in the negotiation of trademark assignment with a brand registered owner, preparation of the relevant trademark assignment agreement and the recordation of the trademark assignment;
Advised a Japanese milk producer company on trade secret matters;
Advised an international retail company on a license agreement and intellectual property-related matters with respect to the opening of retail shops;
Advised an international dietary supplement company on possible intellectual property enforcement against counterfeit products in Indonesia;
Represented an online media company in the preparation of various contracts with artists, sponsors and media content providers;
Represented an individual against a major television company in the termination of contract and intellectual property-related matters;
Advised a major local football club on intellectual property matters related to the license agreement and sponsorship agreement; and
Represented various international and local companies in the trademark registration and copyright recordation in Indonesia.