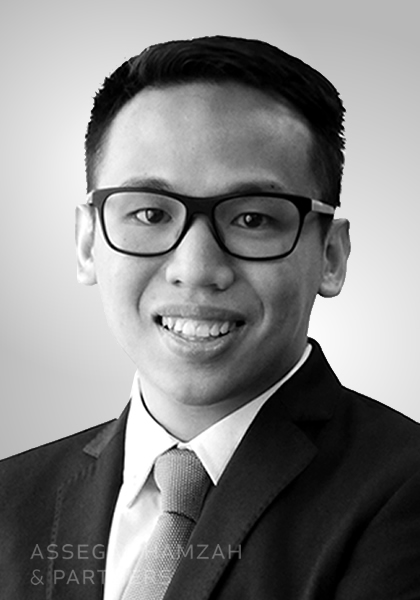 Affan Giffari
Affan joined AHP in 2015, having earlier served with one of Indonesian top tier law firm for seven years as an associate in the Capital Market and M&A team. He was involved in a long list of local as well as cross-border capital market and M&A deals and other general corporate matters.

In his practice at the previous law firm, Affan has worked on a series of high-profile capital market and M&A transactions, primarily involving non-bank financial institutions. Currently, he also has a keen interest in information and technology (IT) sector and regularly advises both domestic and international clients on the relevant Indonesian legislation, regulations, compliance and practices in this sector.

Affan holds a Bachelor of Law degree from Padjadjaran University, Bandung, in 2008 and graduated with a cum-laude predicate. He also obtained a master degree from Tilburg University, in 2018 and graduated from Law and Technology program. He actively spoke at a number of capital market and M&A workshops in Jakarta and Bandung. He is currently waiting to be summoned to the Indonesian Bar Association as a registered advocate.

Qualifications
LLB., Padjajaran University (2008)
LLM., Tilburg University, the Netherlands (2018)

Notable Cases & Transactions
Telecommunication, Media & Technology Matters
advised a reputable regional telecommunication company in exploring mobile virtual network business in Indonesia (ongoing);
advised a worldwide technology company in relation to potential sale of video cache devices in Indonesia (ongoing);
advised PT Indosat Tbk in relation to the lease of telecommunication network and infrastructure in Indonesia (November 2015);
advised PT Bank Maybank Indonesia Tbk in a legal dispute on the software license agreement against SAP (October 2015);
advised Google Inc in relation to the implementation of a private face clustering (PFC) feature in Indonesia (September 2015);
advised Google Asia Pacific Pte Ltd in relation to the implementation of Project Loon in Indonesia (September 2015);

Insurance
advised establishment of a joint venture company engaging insurance business together with an insurance administrator subsidiary, both owned by two worldwide reputable insurance companies (ongoing);
advised a bancassurance arrangement between a worldwide reputable insurance company and one of the biggest conventional bank in Indonesia (ongoing);
represented PT Bank Mandiri (Persero) Tbk in acquiring remaining stakes of BPJS Kesehatan in PT Asuransi Jiwa Inhealth Indonesia, a life insurance company, with the total value of IDR 300 billion (March 2015);
represented PT Bank Mandiri (Persero) Tbk in acquiring majority stakes in PT Asuransi Jiwa Inhealth Indonesia, a life insurance company, previously owned by BPJS Kesehatan, with the total value of IDR 1.3 trillion (May 2014);
represented one of the biggest telecommunication company in acquiring a well-known insurance administrator company in Indonesia (terminated May 2009);

Capital Market And Securities Transactions – International & Domestic Offering

represented PT Japfa Comfeed Indonesia Tbk (JCI) and Japfa Ltd in relation to a private placement of 750,000,000 new shares to Kohlberg Kravis Roberts & Co. L.P. at a floor price of IDR935.6 per share, and (ii) the sale of 441,664,650 Japfa Ltd's shares in JCI (representing approximately 3.87%) at the price of IDR850 per share to KKR Jade Investments Pte. Ltd.
represented PT Indonesia Infrastructure Finance in relation to the offering of notes with a value of IDR 1.5 trillion (July 2016);
represented PT Bank Tabungan Pensiunan Nasional Tbk in relation to the shelf offering of notes with a value amounting to IDR 1 trillion for the first trench (June 2016);
represented PT Duta Intidaya (the exclusive licensee of Watsons brand in Indonesia) in the initial public offering of shares with a value of IDR86 billion, which shares to be listed on the Indonesian Stock Exchange (June 2016);
represented PT Bumi Serpong Damai Tbk in the issuance of US$ 225,000,000 Guaranteed Notes by Global Prime Capital Pte. Ltd. and guaranteed by certain subsidiaries offered outside Republic of Indonesia in reliance of Regulation S of U.S. Securities Act (April 2015);
represented PT Blue Bird Tbk in the offering of 367,500,000 common shares amounting to Rp. 2,447,250,000,000, which has been offered in the Republic of Indonesia in connection with an initial public offering and to eligible investors outside of the Republic of Indonesia in reliance of Regulation S of U.S. Securities Act (30 October 2014);
represented PT Bumi Serpong Damai Tbk in the offering of notes namely "OBLIGASI BERKELANJUTAN I BUMI SERPONG DAMAI TAHAP II TAHUN 2013" amounting to IDR 1,000,000,000,000 which has been offered in the Republic of Indonesia in connection with an initial public offering (May 2013);
represented PT Indika Energy Tbk in the issuance of US$ 500,000,000 Guaranteed Notes by Indo Energy Finance II B.V. and guaranteed by PT Indika Energy Tbk, PT Indika Inti Corporindo, PT Tripatra Engineering, and PT Tripatra Engineers and Constructors offered outside Republic of Indonesia in reliance of Rule 144A and Regulation S of U.S. Securities Act (January 2013);
represented Morgan Stanley & Co. International plc, Citigroup Global Markets Limited and CLSA Singapore Pte Ltd (as the International Selling Agents) and PT Mandiri Sekuritas (as the Local Underwriter) in the offering of 210,681,000 common shares of PT Toba Bara Sejahtra Tbk. The shares has been offered (i) in the Republic of Indonesia in connection with an initial public offering and (ii) to eligible investors outside of the Republic of Indonesia (July 2012);
represented PT Bumi Serpong Damai Tbk in the offering of the notes namely "OBLIGASI BERKELANJUTAN I BUMI SERPONG DAMAI TAHAP I TAHUN 2012" amounting to IDR 1,500,000,000,000 which has been offered in the Republic of Indonesia (June 2012);
represented PT Indika Energy Tbk in the issuance of US$ 500,000,000 Guaranteed Notes by Indo Energy Finance B.V. and guaranteed by PT Indika Energy Tbk, PT Indika Inti Corporindo, PT Tripatra Engineering, and PT Tripatra Engineers and Constructors offered outside Republic of Indonesia in reliance of Rule 144A and Regulation S of U.S. Securities Act (May 2011);
represented PT Bumi Serpong Damai Tbk in the Limited Public Offering of its Rights Issue amounting approximately US$554,071,558, offered (i) in the Republic of Indonesia in connection with an initial public offering and (ii) to eligible investors outside of the Republic of Indonesia, and the acquisition of PT Duta Pertiwi Tbk (December 2010);
represented Citigroup Global Markets Limited, DBS Bank Ltd., Deutsche Bank AG, Singapore Branch, HSBC and The Royal Bank of Scotland plc (as the Joint Lead Managers and Bookrunners) in the issuance of US$ 650,000,000 Guaranteed Senior Notes by Indosat Palapa Company B.V., guaranteed by PT Indosat Tbk in reliance to Rule 144A and Regulation S (July 2010);
represented PT Indika Energy Tbk in the issuance of US$ 230 million Guaranteed Senior Notes by Indo Integrated Energy II B.V. guaranteed by PT Indika Energy Tbk and PT Indika Inti Corporindo, offered outside Indonesia in reliance to Rule 144A and Regulation S (November 2009);
represented Citigroup and UBS (as the Joint Dealer Managers and Bookrunners) in the exchange offer by Matahari International B.V. and the issuance of US$ 200 million Guaranteed Senior Notes by Matahari International B.V., guaranteed by PT Matahari Putra Prima Tbk, offered outside Indonesia in reliance to Regulation S (August 2009);
represented PT Indofood Sukses Makmur Tbk in the Public Offering of the IDR Bonds amounting to IDR 1,610,000,000,000 with the name of "Obligasi Indofood Sukses Makmur V Tahun 2009", listed in the Indonesia Stock Exchange (June 2009)

Merger & Acquisition Transactions
represented PT Holcim Indonesia Tbk in acquiring 100% stakes PT Lafarge Cement Indonesia, with the total value of IDR 2,2 trillion (January 2016);
represented PT Indolakto in acquiring the whole stakes of Danone Dairy Investments Indonesia Pte. Ltd. and Danone Asia Pte. Ltd. in PT Danone Dairy Indonesia, a dairy manufacturing company, with the total value of IDR 250 billion (December 2014);
represented PT MNC Tol Investama in selling the whole stakes in PT Pejagan Pemalang Tol Road, a company holds a toll road concession for Pejagan-Pemalang section to PT Waskita Karya (Persero) Tbk, including a buy back option for the seller, with the total value of IDR 300 billion (July 2014);
represented RHB Capital Berhad in the regional acquisition of OSK Group, a group of companies having business activity as securities company and investment manager having presence in Malaysia, Singapore, Hong Kong, Thailand, Cambodia, China, Indonesia. The acquisition of the OSK group in Indonesia, i.e. PT OSK Nusadana Securities Indonesia and PT OSK Nusadana Asset Manajemen was conducted indirectly through an entity in Malaysia (October 2012);
represented PT Indika Energy Tbk in the sale of 25,215,000 of the ordinary shares of PT Petrosea Tbk, which has been offered outside the Republic of Indonesia in a private placement to institutional investors in various jurisdictions, including a private placement in the United States (February 2012);
represented Maybank Investment Bank (Malaysia) in the regional acquisition of Kim Eng Group, a group of companies having business activity as securities company and investment manager having presence in Malaysia, Singapore, Hong Kong, India, Thailand, Philippines, Vietnam, US, UK, and Indonesia. The acquisition of the Kim Eng group in Indonesia, i.e. PT Kim Eng Securities was conducted indirectly through an entity in Singapore (April 2011);

Corporate Finance
represented PT Bank BNP Paribas Indonesia in providing US$19,000,000 Bank Guarantee Facility to PT Adimitra Baratama Nusantara (March 2013);
represented PT Bank BNP Paribas Indonesia in providing US$15,000,000 Bank Guarantee Facility to PT Adimitra Baratama Nusantara (October 2012);
represented BNP Paribas, Singapore Branch, PT ANZ Panin Bank, Citibank, N.A., Indonesia, Jakarta Branch in providing US$70,000,000 revolving loan facility to PT Toba Bara Sejahtra Tbk (November 2011);