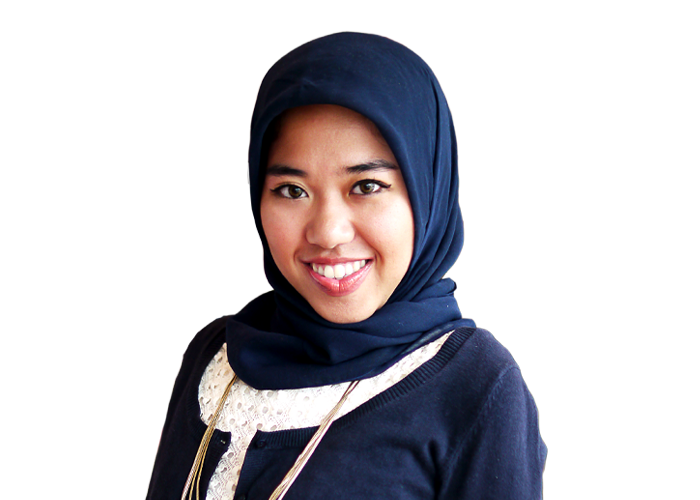 Qualification
Education
LL.B., University of Indonesia (2010)
LL.M., Northwestern University Pritzker School of Law, United States of America (2015)
Licensed
Licensed to practice law as an advocate by the Indonesian Bar Association (PERADI)
Certificate
Certificate in Business Administration, Kellogg School of Management
Accolades
Recognized as "Finance Rising Star in Asia" by Women in Business Law Asia Awards 2020
Aisyah came to Assegaf Hamzah & Partners as a fresh graduate in January 2010 and has just spent the recent year between June 2014 and August 2015 pursuing her master's degree in the US. Her outstanding potential in law school has been more than realized at AHP, and she is rapidly establishing a name for herself as a skilled and dedicated lawyer.

Aisyah received her Master of Law degree as well as a Certificate in Business Administration from the Northwestern University School of Law and Kellogg School of Management in Chicago, Illinois. She was awarded a full scholarship from the Indonesia Endowment Fund for Education (LPDP) and the Northwestern School of Law Dean's Fellowship Program in summer 2014. She was in the Dean's Honors List during her spring semester at the law school.

While studying for her undergraduate law degree at the University of Indonesia majoring in law and economics, Aisyah served as the vice president of the International Board of the Asian Law Students Association (ALSA). She was also an outstanding success in mooting competitions, and had participated in the Willem C. Vis International Commercial Arbitration Moot Competition in Vienna, Austria.

Aisyah's early assignments at AHP were mostly in capital market and foreign investment transactions as well as merger and acquisition deals across industries. Upon returning from Chicago, Aisyah has been exploring new challenges as part of the banking, corporate finance and project finance team. Her current wide-ranging exposure to various types of deals and industries, as well as graduate training in a top US law and business school, has leveraged Aisyah as well-rounded lawyer equipped with advance skills in both legal and commercial transactions.

Aisyah holds an advocate's professional training certificate from the Indonesian Bar Association (PERADI), of which she is an active member. Despite her busy schedule, she also finds the time to serve as the secretary of the AHP Foundation, which is established by the firm for philanthropy activities. Aisyah possesses a strong entrepreneurial spirit and wishes to become a successful entrepreneur herself one day. In her free time, she enjoys traveling and soaking in cross-cultural experiences.
Experience Highlight
Representing PT Satelit Nusantara Tiga, a subsidiary of PT Pasifik Satelit Nusantara, who is the winning bidder of the Implementing Business Entity for the Indonesian government's Multifunctional Satellite project under a Public Private Parnertship scheme, valued at IDR 22 trillion, starting from the tender process, determination of the winning bidder, negotiation up to the finalisation of the Cooperation Agreement with the Ministry of Communication and Informatics of the Republic of Indonesia and the Guarantee Agreement with PT Penjaminan Infrastruktur Indonesia (Persero), as well as all other relevant agreements, including credit agreements and satellite construction agreement. (2019-now)
Providing legal advice to Perusahaan Daerah Air Minum (PDAM) for the Special Region of Jakarta Capital City (PAM JAYA) in amending its Cooperation Agreement for the Drinking Water Supply System (SPAM) with private entities and/or proposal for shares acquisition. (2019-now)
Acting as a retainer counsel for PT MRT Jakarta (Perseroda) in relation to various legal aspects faced in the construction of Corridor I of MRT Jakarta (with a value of USD 1 billion) and preparation of the construction for Corridor II of MRT Jakarta, among others, the tender process of all civil work, construction and track work to sub-contractors, drafting of agreements with contractors or vendors, giving legal advice in relation to various issues, assisting in dispute settlement, etc. (2015-2019)
Represented a consortium consisting of Suez (South East Asia) Limited and PT Brantas Abipraya (Persero) in the tender of Drinking Water Supply System (SPAM) project in West Semarang, namely the SPAM construction project included in the National Strategic Project, which was designed as a SPAM pilot project under a Public Private Partnership funding scheme in Indonesia, specifically in relation to providing legal advice and legal analysis of the drafts of the Cooperation Agreement with PDAM Semarang Barat as the Project Manager for Cooperation (PJPK) and the Guarantee Agreement with PT Penjaminan Infrastruktur Indonesia (Persero), as well as tender documents as required under the Request for Proposal. (2018)
Represented Star Energy in the proposed acquisition of Chevron's Indonesian geothermal projects in Salak and Darajat (2016-2017).
Represented PT Penjaminan Infrastruktur Indonesia (Persero) in the funding of the Public Private Partnership (PPP) project in the railway sector, namely PPP Project for the 142 km Makassar-Pare-pare Railway, which is part of the National Strategic Project valued at IDR 8.2 trilion. In this project, we provided legal analysis and legal advice in relation to the project structure, the Cooperation Agreement between the Implementing Business Entity and Directorate General of Railway at the Ministry of Transportation as the Project Manager for Cooperation, the Guarantee Agreement and Regress Agreement. (2018)
Provided legal advice to PT Bank Mandiri (Persero) Tbk., in relation to the proposal to fund the Jakarta Inner City Toll Road Project (Semanan-Sunter and Sunter-Pulogebang segments). (2018)
Represented The Export-Import Bank of China as a creditor in the financing of the Sumsel-8 steam power plant. This project involved the construction of a coal mine-mouth steam power plant with a capacity of 2 x 600 MW, which included the construction of a 45-km Sumatra-Java 500 KV Extra High Voltage Transmission Line. This project is valued at USD 1.26 billion or IDR 210.8 trilion, and is a cooperation between PT Bukit Asam Tbk., and China Huadian Hong Kong Corporation Ltd. This project is one of the National Strategic Projects in the electricity sector. (2014-now)
Provided legal advice to PT Bank Mandiri (Persero) Tbk. (Bank Mandiri) by reviewing the legal implications from various court decisions in relation to citizen lawsuits regarding the granting of authority to manage water by PDAM Jakarta to each of PT Aetra Air Jakarta and PT PAM Lyonnaise Jaya. This legal advice was given to Bank Mandiri's credit committee in relation to their decision-making process to provide funding to a potential debtor in its investment to develop SPAM in the DKI Jakarta province. (2017)
Represented PT Kereta Api Indonesia (Persero) (PT KAI) in its proposed involvement in the operation of the Transit Oriented Development (TOD) area in relation to the Light Rail Transit project for the Jabodebek route. Our mandate included, among others: (a) preparing a memorandum or legal advice for PT KAI in relation to the legal provisions regarding TOD; and (b) analysing the authority of the parties involved in the operation of the TOD in order to avoid a conflict between the parties. (2017)