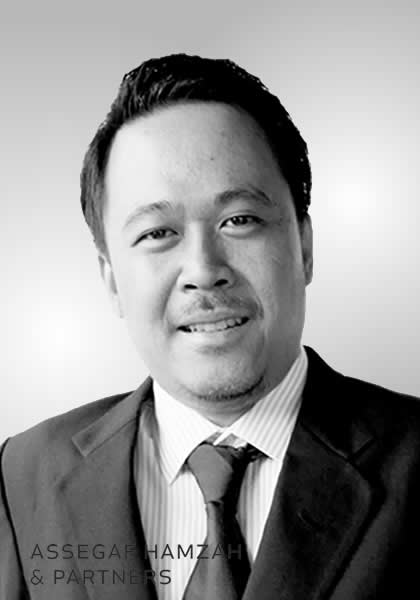 Albertus Agung Dimaz Prayudha
Dimaz is an associate in AHP and a member of the Intellectual Property practice group. Prior to working in AHP, Dimaz was an associate in Dewi Soeharto Law Partnership (DSLP) and when DSLP merged with AHP in 2018, Dimaz decided to join AHP.

Dimaz has handled various domestic and international intellectual property matters and issues, such as intellectual property advisory, registration, licensing, assignment and contract. He is also familiar with intellectual property litigation as well as enforcement, infringement and non-use investigation. Dimaz's intellectual property experience ranges from registration of various intellectual property rights to the Directorate General of Intellectual Property in Indonesia, to submission of cancellation and/or deletion to the Commercial Court and conducting non-use trademark investigations and intellectual property audit.

In addition, Dimaz has experience in the music industry sector and he has advised local artists, musicians and composers related to copyright license agreement.

Dimaz holds an Intellectual Property Rights Consultant license from the Ministry of Laws and Human Rights and is an active member of the Indonesian Intellectual Property Rights Consultant Association (AKHKI).

Qualifications
LL.B., University of Atmajaya (2006)
Licensed to practice law as an advocate by the Indonesian Bar Association (PERADI)
Registered as an Intellectual Property Rights Consultant by the Ministry of Laws and Human Rights (KHKI)

Notable Cases & Transactions
Intellectual Property
Represented various local composers and artists in negotiating and drafting copyright license agreement in relation to the use of their works in movies, music concerts and live music performances, production of sound recordings, and synchronization of their songs in movies and commercial videos.
Retained by the family and heirs of a local artist to assist them in the legal aspects related to the management of the late artist's intellectual property rights.
Advised a local famous musician on copyrights protection in its license agreement with a record label company.
Represented local licensees in negotiating and drafting master recording license agreement for the use of songs in their commercials.
Conducted intellectual property due diligence for the largest Indonesian telecommunication service providers.