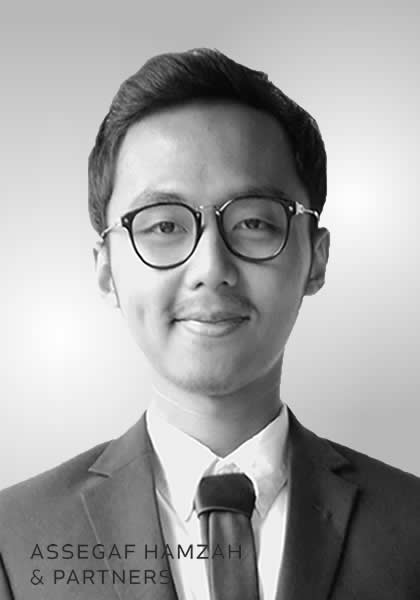 Bagas Tiarniko Susetio
Bagas joined AHP in October 2017. Prior to joining AHP, he spent the early stage of his career in a boutique law firm, working mainly on M&A transactions. When Bagas first joined AHP, he was mainly involved in M&A, capital market, and banking & finance transactions. Currently, Bagas focuses more on banking & finance and projects transactions. Since joining AHP, Bagas has gained experience in handling loan transaction with both domestic and international clients, such as private equity firms, international banks, or offshore contractors.

Bagas' recent experience ranges from providing research and advices in various areas of law and drafting security documents (e.g., fiducia agreement and land mortgage deed).

Bagas holds an LLB from Padjadjaran University, where he was an active participant in various International Law Moot Court Competitions.

Qualifications
LLB., Padjadjaran University (2017)

Notable Cases & Transactions
Banking & Finance and Projects
Representing the Export-Import Bank of China in a USD 1.2 billion project financing of a 2x600MW mine-mouth coal fired power plant project in South Sumatera, Indonesia, by PT Huadian Bukit Asam Power (ongoing).
Representing China Triumph International Engineering, Co. Ltd., in preparing loan documentations with regards to a funding for engineering, equipment supplies and construction of a 6x10MW biomass power plant in Indonesia (ongoing).
Representing various international lenders on a USD 235 million term loan facility to a Singaporean based entity, which is a subsidiary of a major Indonesian coal producer (ongoing).
Advising China Huarong Asset Management Co., Ltd on its transfer of security rights from the Export-Import Bank of China (ongoing).
Represented Asian Development Bank in a USD 40 million project financing for construction and development of 21 MW solar power plant in North Sulawesi and 3x7MW solar power plants in Lombok, West Nusa Tenggara by Vena Energy (later known as Equis Energy) (2018).
Represented China Triumph International Engineering, Co. Ltd., in preparing and arranging loan documentation for a financing of a cement plant construction in Central Java, Indonesia (2018).
Represented CIMB Bank Berhad, Singapore Branch in relation to the accession by new Indonesian subordinated creditors to an existing facility, and an additional USD 200 million term loan facilities to Lippo Malls group (2018).
Represented various international lenders on a USD 47 million syndicated financing for an international privately-owned entity (2018).
Represented PT MRT Jakarta on its documentation for the application of electric money vendor to Bank Indonesia (2018).
Represented PT Sun Life Financial Indonesia on its proposed acquisition of a global insurance company (2018).
Advised PT Bhimasena Power Indonesia in creating a second rank mortgage over its land on top of an existing first rank mortgage in favour of the lenders to secure a USD 3,421,529,000 facility (2018).
Advised Gleneagle Securities Nominees Pty Ltd on its offtake and advance prepayment towards an Indonesian coal producer company, including highlighting issues on the security package of such transaction (2018).