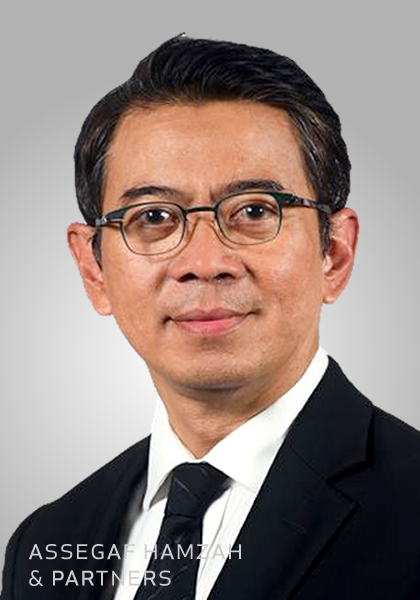 Bono Daru Adji
With more than twenty years of experience working in the legal sector in Indonesia, Bono has developed a reputation for being at the cutting edge of Indonesian commercial law. Bono focuses his practice on mergers and acquisitions and capital markets.

In the banking and finance arena, Bono earned his spurs the hard way during the 1997/1998 Asian financial crisis. Among the significant mandates he worked on at that time were advising Bank Danamon and the Indonesian Bank Restructuring Agency (IBRA) on the merging of nine major domestic banks that were in danger of collapsing.

In his capital markets practice, Bono has been intimately involved in a long list of high-profile public offerings, including those of PT Garuda Indonesia Tbk, PT Berau Coal Energy Tbk, PT Tower Bersama Infrastructure Tbk, PT Bank Tabungan Negara (Persero) Tbk, PT Elnusa Tbk and PT Bank Tabungan Pensiunan Nasional Tbk (BTPN). His recent clients included PT Medco Energy International Tbk., in the issuance of USD 500 million senior notes in reliance on Rule 144A/Reg. S under the U.S. Securities Act, PT Merdeka Copper Gold Tbk, in its initial public offering (IPO), and PT Saratoga Investama Sedaya Tbk, in its IPO.

Meanwhile, in the mergers and acquisitions arena, Bono has represented prominent multinational corporations, as well as large Indonesian corporates, including Coca-cola Beverages Asia Holdings Sarl, and the leading Indonesian telecommunications provider XL, in its purchase of 100% of the share capital of AXIS from Teleglobal Investments B.V. Most recently, Bono represented AKAB, an Indonesian technology company and Go-Jek's services operator, in its direct and indirect investment in the Indonesian joint venture entities of JD.com.

Qualifications
LL.B., Trisakti University, Indonesia (1993)
LL.M., Monash University, Australia (1995)
Licensed to practice law as an advocate by the Indonesian Bar Association (Peradi)

Memberships/Directorships
Head of the Standard Committee (Dewan Standar) of the Indonesian Capital Market Legal Consultants Association (HKHPM)
A member Aviation Law Society (Masyarakat Hukum Udara)

Recognition, Accolades & Awards
Won "Managing Partner of the Year" title from Asian Legal Business Indonesia Law Awards 2018.
Named in Chambers Asia Pacific as a "Band 1" Lawyer in Capital Markets and Corporate/M&A (2013-2019).
Recognised by the Legal 500 as a "Leading individuals" in Capital Markets (2009-2019) and featured in IT and Telecoms (2016-2018).
Recognised as a "Highly regarded" lawyer in Banking, Capital Markets, Energy and Infrastructure, and M&A by the International Financial Law Review (IFLR1000) (2013-2019).
Named "Leading Lawyer" by AsiaLaw Profiles in Capital Markets and Corporate/M&A (2014-2019)
Chambers Asia quoted a client lauding Bono as someone who is "capable, provides a quick response and is a most reliable person." in Capital Markets (2019), and another client referred to him as "a go-to person" in Corporate/M&A (2018).
Legal500 commends Bono for his "excellent capital markets knowledge" (2018).