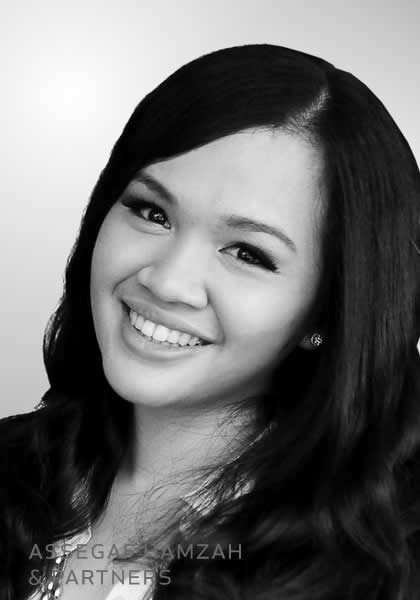 Christine V.A. Tambunan
Christine joined Assegaf Hamzah & Partners in 2010, and since her first day in the office has proved to be a major boon to the firm thanks to her boundless energy and love of a challenge. Prior to making the move to AHP, she honed her legal skills during a three-month stint at another leading Jakarta law firm.

As an associate, Christine focuses her practice on the corporate, mergers & acquisition, capital market, and dispute resolution areas. Among the significant mandates she has worked on since her arrival at AHP are the IPOs of PT Tower Bersama Infrastructure Tbk and PT Garuda Indonesia (Persero) Tbk, major bond offerings by PT Indosat Tbk and PT Indika Energy Tbk, the PT Bank Mandiri (Persero) Tbk rights issue, a number of mergers and acquisitions, and several high-profile dispute resolution and litigation matters. In addition, she has amassed considerable experience in navigating the sometimes-treacherous currents of foreign investment law.

During her college days, she worked as an assistant manager at a legal aid institute in Jakarta, providing pro bono legal assistance to the disadvantaged and marginalized. Among the cases she dealt with, some involved issues of torture, unlawful detention, and freedom of religion.

Qualifications
LLB. (Hons), University of Indonesia (2010)
Licensed to practice law as an advocate by the Indonesian Bar Association (PERADI)

Notable Cases & Transactions
General Corporate/Mergers & Acquisition:
Represented PT Saratoga Investama Tbk in relation to its proposed purchase of the shares owned by PT Rajawali Corpora in PT Express Transindo Utama Tbk, a major Indonesian taxi operator. However, the proposed transaction was aborted due to market conditions.
Advised a telecommunications infrastructure company on its participation in a tender for the sale of a package of telecommunications towers by a leading telecommunications provider. (names of parties confidential)
Counsel to PT XL Axiata Tbk (XL) on the sale of its telecommunications tower business to PT Solusi Tunas Pratama Tbk for a consideration of approximately USD 577 million. The sale was conducted by way of a tender that drew a number of high profile bidders, including the top 3 Indonesian tower operators. AHP was the sole legal adviser to XL, and coordinated with more than 10 separate counsel and advisers to the bidders during the course of the tender process.
Assisted PT Tara Cell Intrabuana (now known as PT Komet Infra Nusantara) in respect of an investment by PT Telekom Infranusantara's (a subsidiary of PT Nusantara Infrastructure Tbk, Indonesia's leading private infrastructure investor and operator) in Tara Cell by way of (a) subscription to new shares of Tara Cell by PTI, and (b) the acquisition of a majority stake from the existing Tara Cell shareholders. The investment also involved funding from an international private equity firm.
Represented a major Indonesian media group in its bid for a stake in PT Link Net, Indonesia's leading high-speed fixed broadband and cable-TV provider. The deal was aborted at a late stage.
Represented EMTEK (holding company of Indonesian TV channel SCTV) in its proposed acquisition of First Media.
Represented agrifood group PT Japfa Comfeed Indonesia Tbk in relation to its internal mergers with PT Bintang Terang Gemilang, PT Multipersada Agrinusa, and PT Multi Agro Persada.
Represented PT Barito Pacific Tbk in its acquisition of a palm oil company in Indonesian Borneo (Kalimantan).

Capital Markets:
Acted as independent Indonesian legal adviser to PT XL Axiata Tbk in connection with its 2016 USD 500 million Increase of Capital with Pre-emptive Rights through a Rights Offering Mechanism. The securities were offered under Rule 144A and Regulation S of the United States Securities Act.
Represented PT Tower Bersama Infrastructure Tbk in relation to the issuance of its 2016 IDR 230 billion bond.
Represented PT XL Axiata Tbk (the "Company") in the issuance of Tranche I of its 2015 Sukuk Ijarah Program 2015 amounting to IDR 1.5 trillion ("Sukuk Ijarah") as part of the Company's Shelf Registration Sukuk Program, which amounts to IDR 5 trillion.
Acted as Indonesian legal counsel to Indonesian agri-food company Japfa Ltd in its S$198 million IPO, comprising an international offering of 231.2 million shares and a Singapore public offering of 16.8 million shares.
Counsel to coal mining company PT Atlas Resources in its offering of 650,000,000 new shares in Indonesia by way of an initial public offering pursuant to the Bapepam-LK rules, and outside Indonesia in reliance on Regulation S/Rule 144A. The IPO raised IDR 975 billion (USD 109.2 million).