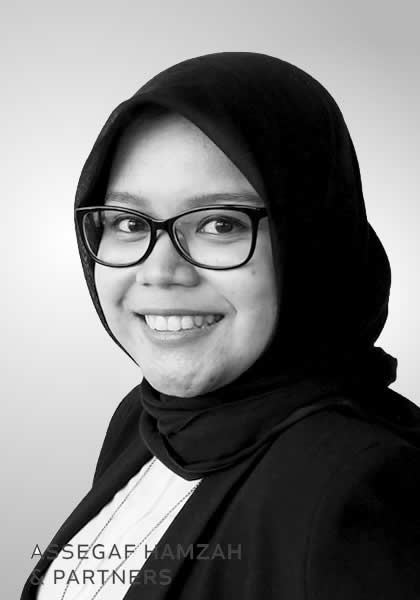 Fitri Amelina
Fitri focus her practice on commercial litigation and dispute resolution. She is exposed to various range of litigation and arbitration proceedings in which she acquired skills in drafting legal opinions, memoranda, and documents for pleadings at the District Court, High Court and Supreme Court as well as for arbitral tribunal.

Upon graduating in 2015, she was an intern at Rajah & Tann Singapore assisting commercial litigation and Indonesian desk. Afterwards, she joined AHP as an intern and became an associate in early 2016.

During her study, she was a successful student in both academic and extracurricular activities as she was awarded the Outstanding Student prior her graduation. She also actively took part in academic events and won numbers of national law debate and legislative drafting competitions as well as joined international conferences.

Qualifications
LL.B. (Hons), University of Indonesia 2015
Licensed to practice law as an advocate by the Indonesian Bar Association (PERADI)

Notable Cases & Transactions
Represented PT Coca-Cola Bottling Indonesia in relation to land swap and criminal case on misuse of water permit (Ongoing)
Represented PT Nissan Motor Distributor Indonesia in civil claim at the South Jakarta District Court case Number 871/Pdt.G/2016/PN.Jkt.Sel, appeal at the Jakarta High Court and Supreme Court (Ongoing)
Represented BluTether Limited in civil claim at the West Jakarta District Court, appeal at the Jakarta High Court and Supreme Court (Ongoing)
Represented PT Geo Dipa Energi (Persero) in arbitration proceeding at the Indonesian National Arbitration Board (Badan Arbitrase Nasional Indonesia – BANI) (2018)
Represented PT Mitsui Leasing Capital Indonesia on tort claim at the Surabaya District Court case Number 398/Pdt.G/2017/PN.Sby (2018)
Represented Komatsuya Co. Ltd., Japanese company, on the potential dispute against Indonesian company (2018)
Advised PT Bank Mandiri (Persero), Tbk on the fixed assets issues (2018)
Advised PT Petrokimia Gresik related to performance and maintenance bond against its contractor (2018)
Advised Iran Liquefied Natural Gas Company, Iran gas company, on the legal dispute on disbursement and withdrawal of bank account (2018)
Advised PT SGG Energi Prima on the legal issues against its coal suppliers (2018)
Advised PT Heinz ABC Indonesia on the potential legal issues against its distributor (2018)
Advised Marubeni Corporation on legal measures towards final and binding decision (2017)
Advised Star Energy Ltd. on legal issues pursuant to the landslide (2016)
Advised PT Jaya Real Property on the land issues in Tangerang (2016)
Advised Singaporean citizen on the service of foreign court documents in Indonesia (2016)
Advised Singapore-based law firm on aviation incident (2016)