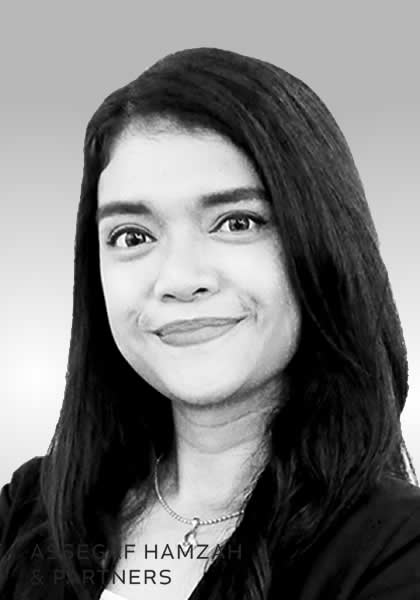 Luciana Fransiska Butarbutar
Luciana joined Assegaf Hamzah & Partners as an intern in early 2014 shortly after graduating with honours from the University of Indonesia and was made a junior associate thereafter. During her time at AHP, she has worked across a wide variety of practice areas in line with the firm's policy of exposing young lawyers to as much cross-specialization experience as possible. However, her primary focus is M&A and foreign direct investment projects as well as a variety of general corporate matters.

While at college, Luciana was an active participant in student organizations, namely the University of Indonesia Faculty of Law's Students Union, the Indonesian Chapter of Asian Law Students Associations (ALSA), Law Students Association for Legal Practices (LaSALe) and Indonesian Law Debate Society (ILDS). She has a long list of achievements to her name, including winning the national law debate competition held by the University of Pelita Harapan, progressing as far as the finals in the national debate competition held by TvOne in collaboration with Bank Negara Indonesia, and placed third in the University of Indonesia Law Faculty's moot court competition in 2011. She was an active speaker in various student discussions and mentor to her juniors in study group discussions.

Outside the office, Luciana is actively involved in charitable work with a number of social and community organizations. She is currently serving as an Indonesian language tutor in Yayasan Pemimpin Anak Bangsa (YPAB), a foundation where she provides non-formal education to out-of-school students in Indonesia.

Qualifications
LL.B. (Hons), University of Indonesia (2014)
LL.M. (Distinction), Tilburg University, The Netherlands (2020)
Licensed to practice law as an advocate by the Indonesian Bar Association (PERADI)

Publications
Loans & Secured Financing – Indonesian chapter for the 2016 and 2017 issues of Getting the Deal Through.

Notable Cases & Transactions
Mergers & Acquisitions
Counsel to Hai Di Lao in relation to the opening of hot pot restaurants in Indonesia (2019)
Represented one of the largest chemical manufacturers in Japan in the acquisition of Indonesian PVC compound producer (2019).
Counsel to a Singapore-based rubber products manufacturer in the acquisition of its Indonesian subsidiary (2019).
Counsel to a Japan-based industrial materials and machinery sales company in the establishment of a joint venture company in Indonesia (2018).
Advised American world's leading provider of open source solutions on its various corporate and operational matters 2018).
Advised one of Japan's largest trading companies on its various corporate and operational matters (2018).
Advised an international balsa wood manufacturer in establishing a joint venture cooperation with a local partner in Indonesia, total value 1.1 million United States Dollars (2017).
Advised a Japan-based trading and distributors company in the transfer of shares and capital reduction (2017).
Advised a Singapore investment holding company on its various corporate and operational matters (2017).
Counsel to PT Mega Manunggal Property Tbk ("MMP") group in relation to foreign direct investment matters in PT Mega Khatulistiwa Property and PT Mega Dharma Property (2017).
Counsel to a London-based engineering company in acquiring majority shares of the recognized and leading designer and manufacturer of high quality oil and gas equipment in Batam (2017).
Advised on the establishment of a joint venture company engaging in insurance business together with an insurance administrator subsidiary, both owned by two global reputable insurance companies (2016).
Advised one of Indonesia's fastest-growing online hotel, flight and train reservation companies in its corporate restructuring and capital reduction activities (2015).
Advised PT VFS Tasheel Indonesia in its various corporate and operational matters (2016).
Advised an Indonesian reputable airline and hotel ticketing services onlne company in the internal corporate restructuring (2016).
Represented international private equity companies in relation to their subscription of shares in an Indonesian motorcycle online service provider (2015).
Represented a Japan-based company manufacture, sales, import-export of baby and child care products company in the due diligence process (2015).
Represented selling shareholders in the sale of their stake in PT Travira Air, an Indonesian scheduled-airlines company (2015).
Represented a subsidiary of Elixir Capital in foreign direct investment in PT Bintang Makmur Prima (2014).
Represented Quadria Capital, a leading Asian healthcare investment firm, in its purchase of a stake in PT Soho Global Health (2014).
Advised Amicorp Community Foundation (ACF) in the establishment of foreign direct investment company located in Buleleng, Bali (2014).

Capital Market
Represented PT Duta Intidaya Tbk (the exclusive licensee of Watsons brand in Indonesia) in the initial public offering of shares with a value of IDR86 billion, which shares to be listed in the Indonesian Stock Exchange (2016).
Banking & Finance
Represented PT Bank CIMB Niaga Tbk on its approx. USD 76 million loan facility to PT Net Mediatama Televisi in the inter-company transfer of assets, purchase of broadcasting equipment, construction and renovation of studios, acquisition of companies and program development (2016).
Represented the Korea Development Bank, Société Générale Hong Kong Branch, and Sumitomo Mitsui Banking Corporation Singapore Branch in US$ 147.5 million financing for the development of 42 MW run-of the river hydroelectric power project in Toba Samosir district, North Sumatra (2016).
Representing PT Panca Amara Utama with respect to financing from International Finance Corporation of US$ 509,000,000 (2016).