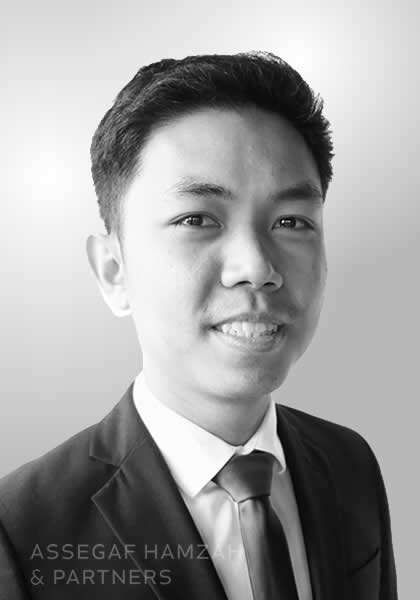 Marcellinus Jansen Raymond
Raymond started his legal career at AHP in 2016. He earned his bachelor's degree in Law from the University of Indonesia in 2015 majoring in Business Law and recently passed the bar examination. He is waiting to be called by the Indonesian Bar Association (PERADI).

During his time at AHP, he has gained invaluable experience conducting legal research, due diligence exercises, and liaising with governmental and regulatory authorities. Raymond focuses his practice in M&A, foreign direct investment and capital market transactions as well as a variety of general corporate matters.

His recent key transactions are the IPO of PT Prodia Widyahusada Tbk, one of the most prominent and the largest nationwide network of clinical laboratories across Indonesia and the issuance of shelf offering of notes with a value amounting to IDR 1 trillion for the first trench by PT Bank Tabungan Pensiunan Nasional Tbk. He also worked in a proposed acquisition transaction of one of the fastest growing lease retailer company which develops, operates, and owns various shopping malls in Indonesia.

Moreover, he is currently assisting the Government of the Republic of Indonesia to develop the Online Single Submission (OSS) and several pre-IPO restructuring as well as upcoming IPO to be listed on Indonesian Stock Exchange.

Qualifications
LLB., University of Indonesia (2015)

Notable Cases & Transactions
Acting as the legal counsel for PT XL Axiata Tbk in relation to shelf registration public offering for Bonds and Sukuk Ijarah with a funding target of IDR 5 trillion respectively, and for the 2018 issuance values of Bonds and Sukuk Ijarah are IDR 2 trillion. (2018)
Advised PT Sarimelati Kencana Tbk (Pizza Hut) in relation to its initial public offering and assisted for the application of franchise license to Ministry of Trade. (2018)
Acting as the legal counsel for a private equity firm with respect to the investment and assets acquisition of one of the most famous traditional restaurants in Jakarta. (2018)
Advising a public company relating to the proposed shares acquisition of venture capital company that under supervision of the Financial Authority Services (Otoritas Jasa Keuangan) and the acquisition of company which engaging business in food crop processing. (2018)
Acting as the legal counsel for one of the fastest growing company lease retailers which develop, operate, and own various shopping malls in Indonesia in connection with the acquisition of shopping mall in Sulawesi, Indonesia. (2018)
Acted as legal counsel of PT Mega Manunggal Property Tbk as a warehouse provider that supports industrial property needs relating to its issuance of 1,857,142,625 shares which had raised IDR 1,077,142,722,500. (2017)
Advising DKSH Holding AG on the Mandatory Tender Offer as required by Regulation No. IX.H.1 for the acquistion of a public company listed in Indonesian Stock Exchange, i.e. PT Wicaksana Overseas International Tbk. (2017)
Represented PT Kirana Megatara Tbk as the largest crumb rubber producer in Indonesia to the initial public offering on the Indonesian Stock Exchange. (2017)
Advised PT Nusantara Pelabuhan Handal Tbk (a container terminal operator and port-related service provider) with respect to its initial public offering which in the amount of IDR 308,619,083,500. (2017)
Acting as local legal counsel to the Republic of Indonesia and Perusahaan Penerbit SBSN Indonesia III as the Issuer on the dual-tranche issuance of USD 2,500,000,000 Global Government Sukuk Issuance Program as Series 5 and 6 of the USD 10,000,000,000 Trust Certificates Issuance Program to be offered outside of Indonesia and to be listed on the Singapore Exchange and the NASDAQ Dubai, the largest ever Asian US Dollar denominated Sukuk transaction (Debt Market deal of The Year 2016 – Asian Legal Business Indonesian Law Awards).
Acting as the local legal counsel to the Joint Lead Managers: Citigroup Global Markets Limited, Credit Suisse (Singapore) Limited and PT Indo Premier Securities in the IPO of PT Prodia Widyahusada in reliance on Regulation S under the US Securities Act. (2016)
Advised Barclays Bank plc, Deutsche Bank AG, J.P. Morgan Securities plc and Société Générale as Dealers on the dual-tranche issuance of EUR 3,000,000,000 Notes Issuance Program by the Government of the Republic of Indonesia as Series 18 and 19 under the USD 40,000,000,000 Global Medium-Term Note Program. (2016)
Advised Citigroup Global Markets Inc., Merrill Lynch (Singapore) Pte. Ltd., The Hongkong and Shanghai Banking Corporation Limited and Standard Chartered Bank as Dealers on the update and issue of USD 3,500,000,000 Notes Issuance Program by the Government of the Republic of Indonesia as Series 20, 21 and 22 under the USD 50,000,000,000 Global Medium-Term Note Program. (2016)
Represented PT Bank Tabungan Pensiunan Nasional Tbk in relation to the shelf offering of notes (the issuance of BTPN III Bonds) with a value amounting to IDR 1 trillion for the first trench. (2016)
Represented PT Chandra Asri Petrochemical Tbk in relation to issuance of bonds with a principal amount as much as IDR 500,000,000,000 consisting of bonds Series A and the Series B bonds with each tenor 3 and 5 years through the Public Offering of Chandra Asri Petrochemical I Bonds Year 2016. (2016)
Advised PT Medco Energi Internasional Tbk on its 2016 IDR 1.5 trillion Shelf Offering for the third trench. (2016)
Acting as legal counsel in transaction of acquisition assets and shopping center located in Sukabumi and Cianjur by one the real estate developer and operator leader in Indonesia. (2016)
Advised PT Bank CIMB Niaga Tbk and PT Bank ArthaGraha as Lender that intend to grant credit facilities with total aggregate amount of up to IDR 1.5 trillion Senior Syndicated Facilities for one of the well-known television station in Indonesia. (2016)