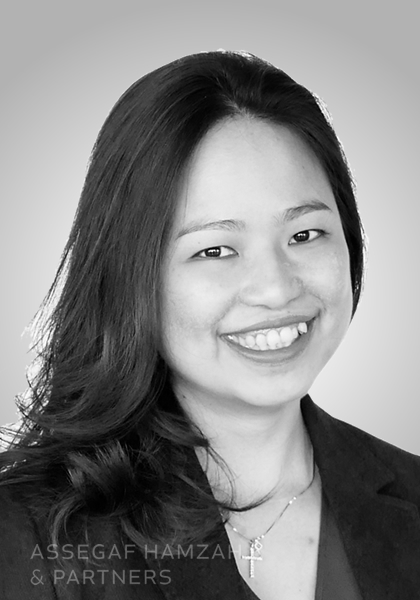 Temmy Tandri Kurniawan
Temmy joined Assegaf Hamzah & Partners after 4 years working as an Associate in a UK law firm based in Singapore. Prior to commencing her practice in Singapore, Temmy served as a Legal Manager in the corporate finance department at one of the largest investments and financial advisory firms in Indonesia.

Temmy's focus is on corporate finance and cross-border transactions across a number of sectors with particular areas of energy, natural resources and shipping. Her work experience includes M&A (public and private), management buyouts, joint ventures, structured financing, project financing, corporate and debt restructuring, divestment, as well as ECM transactions and debt offerings including those done under (144A/Reg S).

She holds Master of Laws degrees from University of Sydney, Australia and Leiden University, the Netherlands.

Qualifications
LL.M (Public International Law), University of Leiden, The Netherlands (2013)
LL.M (International Business Law), University of Sydney, New South Wales, Australia (2008)
S.H. (Criminal Law), Atma Jaya University, Jakarta, Indonesia (2005)

Memberships
Completed Advocate Profession Examination by the Indonesian Bar Association (Peradi)

Notable Cases & Transactions
Represented Star Energy Geothermal (Wayang Windu) Ltd on the issuance of USD 580,000,000 6.75% Senior Secured Notes due 2033, listed on the Singapore Exchange.
Represented a regional private equity and venture capital firm in its various investments in the health and hospital business in Indonesia.
Represented PT Sri Rejeki Isman Tbk (Sritex), Southeast Asia's largest textile manufacturer in Indonesia, in its acquisition of two leading manufacturers and exporters of fine quality spun yarns.
Advised and drafted bespoke agreements for the first bullion trading platform in Singapore.
Public takeover of London listed Asia Resources Minerals plc by Asia Coal Energy Ventures.
Advised Tata Group on significant divestment of its coal mining assets in Indonesia.
Advised a major FSRU operator on its structured investment in Indonesia and compliance with cabotage rules under Indonesian shipping regulations.
Acted for and advised Indonesian security agent for the issuance of bonds by a Singapore company to be listed and traded in the Singapore Exchange Limited.
Advised a major national oil company in China in relation to its tender participation for the supply of a Floating Production Unit and establishment of a joint venture company in Indonesia.
Arrangement of US$20 million exchangeable bond of an Indonesian media company listed on the Indonesia Stock Exchange.
Advised an Australian listed company for the acquisition of metal mines in Mongolia by way of an RTO.
Acquisition of 90% stake in the fifth largest Indonesian coal mining company, with a mixture of senior secured facility and vendor notes as acquisition financing, deal valued at US$1.3 billion.
Arrangement of Pre-IPO financing facility, exchangeable credit facility and bridging loan facility for Indonesian coal mining parent company with total deal value at over US$500 million.
Debt restructuring and option arrangement for an Indonesian coal mining parent company with deal valued at US$425 million
Issuance of Berau Coal Resources Pte Ltd US$450 million high-yield bond offering pursuant to Rule 144A and Regulation S of 12.5% Guaranteed Secured Senior Notes due 2015, underwritten by Credit Suisse and Deutsche Bank and US$400 million senior secured term loan facility.
Initial Public Offering of PT Berau Coal Energy Tbk in Indonesia Stock Exchange and international equity offering pursuant to Rule 144A and Regulation S.
Divestment of 75% stake of Indonesian listed coal mining company by way of reverse take-over (RTO) to a UK listed company with deal valued at US$1.367 billion.