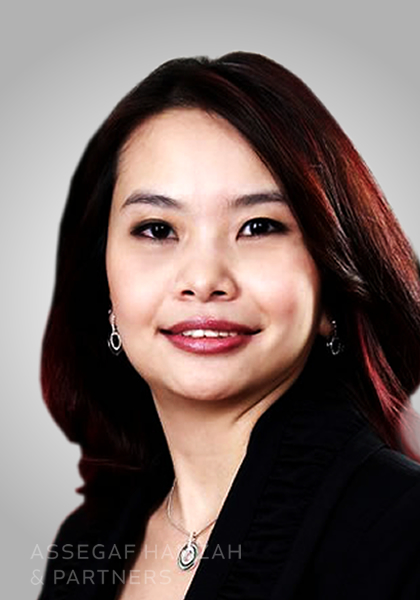 Valerie Ngooi Ming Hui
Valerie commenced practice as a corporate commercial lawyer in 2005 in Kuala Lumpur, Malaysia, and moved to Jakarta, Indonesia, after 1 ½ years of practice in Kuala Lumpur.

Valerie advises on a wide spectrum of corporate and commercial matters, including takeovers, mergers and acquisitions, corporate restructuring, corporate governance, licensing and regulatory approvals, exchange control regulations, foreign investment, new business ventures and investment vehicles, joint ventures, capital markets, securities law, due diligence, drafting, reviewing commercial documents and papers, and general corporate advisory work.

In Indonesia, Valerie's experience also covers an extensive range of corporate transactions, with specialisation in M&A deals across various sectors. She has represented foreign investors from Asia, the United States, the United Kingdom, continental Europe and Australia in a significant number of M&A transactions and foreign direct investments.

Recent key engagements include advising Malaysian, Korean, Australian and Singaporean investors operating across a wide range of sectors on their investments plans in Indonesia. Valerie's clients currently include a number of well-known international corporations operating in the e-commerce, IT, telecommunications, financial, property, retail, oil & gas, palm oil and mining industries.

Valerie is fluent in written and spoken English and Bahasa Malaysia, and has a conversational command of Bahasa Indonesia, Mandarin and Cantonese (including a basic understanding of written characters).

Qualifications
LLB. (Hons), University of Sheffield, England (2012)
LLM. (Merit), Corporate and Commercial Law, University of London, England (2003)
Advocate & Solicitor, High Court of Malaya (since 2005)
Licensed to practice law as an advocate by the Indonesian Bar Association (Peradi)

Notable Cases & Transactions
Counsel to PT Indosat Tbk on its various transactional and operational matters.
Counsel to PT Tokopedia on its various corporate and operational matters.
Represented the shareholder of PT Bank Maspion Indonesia Tbk on the sale of its shares to Kasikornbank Public Company Limited.
Counsel to PT BMW Indonesia on its various corporate and operational matters.
Counsel to PT XL Axiata Tbk (XL) on the sale of its telecommunications tower business to PT Solusi Tunas Pratama Tbk for a consideration of approximately USD 577 million. The sale was conducted by way of a tender that drew a number of high profile bidders, including the top three Indonesian tower operators. AHP was the sole legal adviser to XL, and coordinated with more than 10 separate counsel and advisers to the bidders during the course of the tender process.
Advised an air charter company on the sale of a 30% stake to a private equity company. AHP mandate included pre-sale internal restructuring and complex negotiations on the deal structure in order to comply with the "single majority" requirement for air transportation companies.
Represented PT Saratoga Investama Tbk in relation to its proposed purchase of the shares owned by PT Rajawali Corpora in PT Express Transindo Utama Tbk, a major Indonesian taxi operator.
Acted for a Malaysia-based private healthcare provider in relation to the Indonesian aspects of its investment in another Malaysia-based company with subsidiaries in Indonesia.
Advised a telecommunications infrastructure company on its participation in a tender for the sale of a package of telecommunications towers by a leading telecommunications provider.
Represented PT Kharisma Mutiara Agung in its acquisition of 90% of the share capital of PT Perusahaan Bongkar Muat Adi Purusa (Adi Purusa) from private individuals. Adi Purusa was established in 1986 and engages in stevedoring. It is one of only a small number of stevedoring companies holding 20-year concessions at Tanjung Priok Port, Indonesia's biggest international seaport.
Advised PT Chandra Asri Petrochemical Tbk in its USD 435 million joint venture with Compagnie Financière Michelin (Michelin), Europe's largest tiremaker, to build a synthetic rubber plant to supply to Indonesia's automotive industry.
Advised PT Tara Cell Intrabuana, a telecommunications tower company, in the USD 50 million investments by PT Nusantara Infrastructure by way of acquisition of 39.55% stake in the company.
Advised PT HD Corpora and Wealth Paradise Holdings Ltd in the sale of controlling interest of PT HD Finance Tbk, a consumer financing company, to PT Tiara Marga Trakindo.
Advised Wilmar International Ltd on its proposed acquisition from Noble Group Ltd of a 53.74% equity interest in Noble Plantations Pte Ltd to form a Papua focused, strategic joint venture in order to develop and operate palm projects to produce and sell crude palm oil and its by-products.
Advised a media investment company, PT Multimedia Nusantara (a subsidiary of the PT Telekomunikasi Indonesia (Persero) Tbk group), on the establishment of its joint venture with eBay International AG to operate a C2C online marketplace business in Indonesia.
Advised PT Telekomunikasi Indonesia (Persero) Tbk and PT Multimedia Nusantara on the establishment of its joint venture with Telstra Corporation Limited to operate network application services business in Indonesia.