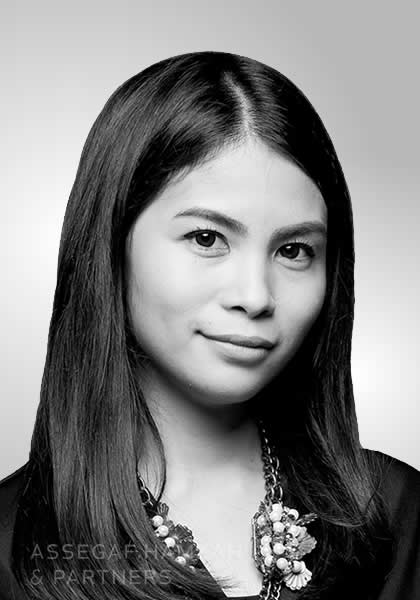 Rosdianthy Rais
Rosdianthy, or Anthy as she is known to just about everybody, came to Assegaf Hamzah & Partners (AHP) as an intern in 2011. She quickly impressed both her supervisors and the Partners with her incisive legal and analytical skills, and was made associate after completion of her internship early in 2012.
She now focuses her practice on Capital Markets and M&A, where, since being made associate, she has been involved in a number of significant matters, including automotive distributor PT Mitra Pinasthika Mustika Tbk's IPO, the merger of PT Japfa Comfeed Indonesia and PT Multibreeder Adirama Indonesia, and bonds offerings by PT Japfa Comfeed Indonesia Tbk, PT Indosat Tbk, and PT Medco Energi Internasional Tbk. She also worked on Singapore-based Gallant Venture's acquisition of PT Indomobile Sukses Makmur and a comprehensive fair competition review for the Indonesian subsidiary of a leading international cement producer. She has passed the bar examination set by the Indonesian Bar Association (Peradi) and is currently waiting to be called to be called to the bar as an advocate.

Rosdianthy is presently busy on the rights issue of a plantation company and the upcoming IPO of a local coal producer.
A 2011 graduate of Trisakti University, where she majored in land law, Anthy was an active participant in student activities while at college. She was also an avid mooter, and made the finals of the Trisakti University Moot Court Internal Competition in 2009.
Anthy is involved in a wide range of charitable/social activities, and was a member of the Trisakti Fund Raising Committee for Natural Disasters. When not in the office, she likes nothing better than to relax by reading histories of the Indonesian archipelago.