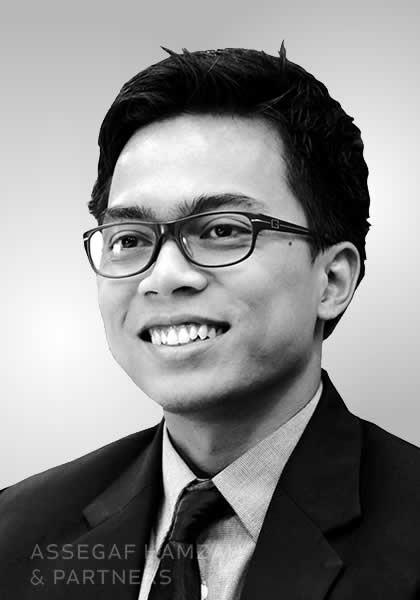 Andin Aditya Rahman
Andin joined Assegaf Hamzah & Partners as an associate in 2015 after having earlier spent some time with another premiere law firm in Jakarta. Upon joining Assegaf Hamzah & Partners, Andin has advised various corporations in Surabaya where is stationed, including most of the major state-owned companies, on M&A transactions and good corporate governance.

In addition, Andin has expertise in technology, media, and telecommunications sector and has regularly advised in these sectors and Indonesian laws and regulations issues related to new technologies and business models, such as internet of things, artificial intelligence, privacy, big data, cloud computing, blockchain, and over-the-stop content, for both domestic and international clients. He also has published articles is renowned international publications and has active membership in both local and international organizations, including the Indonesia Cyber Law Community and the Asian Privacy Scholars Network.

Andin holds a Bachelor of Law degree from Airlangga University, majoring in international law. During his studies, he has participated in various moot courts and is still active in guiding and coaching the moot court teams of his alma meter.

Qualifications
S.H., Airlangga University (2012)

Publications
"Digital Business in Indonesia: Overview", Thomson Reuters Practical Law, 1 September 2018.
"Indonesia enacts Personal Data Regulation," Privacy Laws & Business International Report, Issue No. 145, February 2017.
"Developments in Indonesia's Privacy Rules," Data Privacy Asia Newsletter, 22 March 2016.
"Indonesia introduces a comprehensive privacy Bill," Privacy Laws & Business International Report, Issue No. 139, February 2016.

Organizational Membership
Indonesia Cyber Law Community (2016 – Present).
Asian Privacy Scholars Network (2016 – Present).

Notable Cases & Transactions
Mergers & Acquisitions
Advising the subsidiary company of a cement state-owned company relating to procurement of goods and services, as well as its new business activity of property brokering and management (ongoing).
Advising a major fertilizer company in regard to its proximity agreement with nearby oil and gas companies (2017).
Acting as legal counsel for a state-owned corporation engaged in the plantation sector in establishing a lease cooperation arrangement over sugar cane manufacturing facilities in East Java and loan restructuring with a value of approximately 1.4 trillion Rupiah (2017).
Advising a plantation state-owned company in liquidating a subsidiary company in Germany (2017).
Advising for an international balsa wood manufacturer in establishing a joint venture cooperation with a local partner in Indonesia with a total value of 1.1 million United States Dollar (2016).

Technology, Media &Telecommunications
Advised Facebook Singapore Pte Ltd in relation to the take down request by the Indonesian Government of certain Facebook and Instagram posts and accounts (2018).
Advised Stubhub in relation to ticketing requirements under Indonesian laws and regulations (2018).
Advised Gamefield Hong Kong Limited in relation to the launching of Game.ly into the Indonesian market (2018).
Advised Xiaomi Inc. in relation to the Indonesian data localisation requirement (2018).
Advised Zalora in relation to compliance of its data protection and privacy documentation with the Indonesian laws and regulations (2018).
Advised PT Sephora Indonesia in relation to certain matters pertaining to the Indonesian laws and regulations on data protection and privacy (2018).
Advised Facebook in relation to the business activities of WhatsApp in Indonesia (2017).
Advised Astro Group in relation to its partnership with PT XL Axiata for the launching of Tribe in Indonesia, a subscription-based OTT service (2016).
Advised HOOQ Digital Pte Ltd in relation to its business expansion into the Indonesian market (2015).