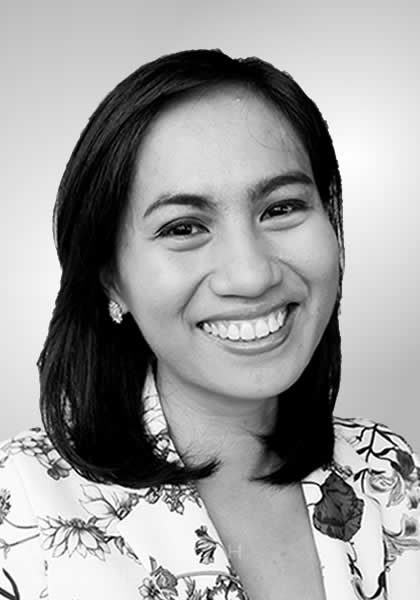 Ingrid Gratsya Zega
In the merger control arena, she has extensive experience in handling multi-jurisdictional merger fillings. She has been involved in many high profile transactions before the KPPU, including Ingram Micro Inc.'s acquisition of Brightpoint Inc., Saudi Aramco's acquisition of S-Oil Corporation, CVC Capital Partners' acquisition of TEC Holding Ltd, Lafarge S.A.'s merger with Holcim Ltd, Ooredo Q.S.C's acquisition of Asia Internet Holding S.a.r.l, and Itochu Corporation's acquisition of PT Hexa Finance Indonesia.

Aside from merger control matters, she was also a member of the firm's team advising Garuda Indonesia Airlines on its prosecution in the Federal Court of Australia by the ACCC for alleged collusion in the fixing of surcharges and fees on the carriage of air cargo.

In addition, she has worked on competition audit projects for multinational companies operating in the consumer goods, glass, and automotive industries, among others.

Prior to joining Assegaf Hamzah & Partners in 2013, she worked for Rizkiyana & Iswanto, a leading Indonesian boutique antitrust firm. She involved in both contentious and non-contentious competition law matters across a wide range of industries, including shipping, aviation, cement, telecommunications, heavy machinery, glass, private equity, financing, banking, insurance, bancassurance and oil and gas.

Prior to focus on competition and antitrust law, Ingrid worked at another premiere law firm in Jakarta where she was involved in many due diligence projects, including advisory and research work on companies operating in the mining, investment, automotive, construction, and telecommunications industries. This has provided her with a broad overview of general corporate matters and other fields aside from competition and antitrust matters.

Qualifications
LL.B. (Hons), University of North Sumatera (2009)
Licensed to practice law as an advocate by the Indonesian Bar Association (PERADI)

Publications
Getting The Deal Through: Merger Control 2016 – Indonesia chapter published by Law Business Research Ltd.
Merger Control Second Edition 2014 – Indonesia chapter published by Thomson Reuters
Indonesian Competition Law published by Lexis Nexis (2014)
Cartels & Leniency 2013 – Indonesia chapter published by Global Legal Group