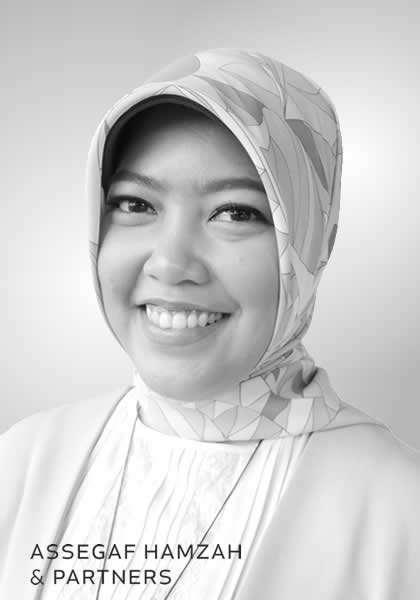 Tsurayya Nurrahma
Tsurayya is an economist in the Competition Practice Group of Assegaf Hamzah & Partners, who works closely together with the lawyers and takes a cross-disciplinary approach to offer the best advice to the clients. She, a 2012 cum laude graduate of University of Indonesia, joined the firm in 2013. Since commencing her works at the firm, she has participated in a number of significant competition and antitrust matters, including cartel investigations and merger notifications.

Tsurayya regularly assists and advices clients on competition, antitrust, economic, and financial matters relating to competition law, including in particular cases concerning price fixing, output restrictions, and merger cases. Tsurayya's assistance includes anything from minor analyses for use in preliminary assessments to large analyses in cases before the Indonesian Competition Commission (KPPU) or courts of law. Such analyses may concern market definitions, market structure and dominance, prices, competitive and market impact analysis, cost structures, financial analysis, etc. In addition, Tsurayya has experience in providing advices concerning compliance with competition law, damages, etc.

Further, Tsurayya sometimes involves in public policy projects, ranging from formulating regulatory and public policies, advocacy to governments and businesses, assisting legislative changes, such as the drafting of bills and regulations for some sectoral regimes, and estimating administrative burdens of a regulation in the economy.

Tsurayya holds a Bachelor of Economics degree from the University of Indonesia and a graduate degree in economics, specializing in industrial organization, market and regulation, and competition and antitrust policy from the University of Amsterdam, the Netherlands.

Qualifications
S.E., University of Indonesia (2012)
M.Sc., University of Amsterdam (2017)

Publication
Co-Author of Competition Law in Indonesia, Lexis Nexis, Singapore.

Experience
Competition Law Cases
Provided competition, economic, and financial defences for clients, such as:
PT Japfa Comfeed Indonesia Tbk, the leading agri-food and poultry company in Indonesia, against a cartel allegation in "day-old chick" (DOC) production.
PT Yamaha Indonesia Motor Manufacturing, the Indonesian subsidiary of a Japanese motorcycle manufacturer, against an alleged price fixing in automatic scooter market.
PT Goodyear Indonesia Tbk, an affiliate of one of the world's well-known manufacturers of tires, against cartel allegations (output restriction and price fixing) in the Indonesian tires market.
Petrokimia Gresik, an agrichemical company and a subsidiary of PT Pupuk Indonesia (Persero), against the alleged bid-rigging in Petrokimia Gresik's ammonia-urea plant project in Gresik, East Java.
PT Angkasa Pura I, a State-Owned Enterprise providing air traffic services and business airports, against an exclusive dealing agreement allegation in the aviation industry.
PT Nissan Motor Distributor Indonesia, the sole distributor of Nissan, Datsun, and Infinity cars in Indonesia, during the KPPU's monitoring study on the four-wheel drive industry.

Competition Advisory
Provided economics and competition/antitrust advice to companies in a wide variety of industries, among other things, PT Bank Permata Tbk, PT Unilever Indonesia Tbk, PT Garuda Indonesia Tbk, PT Toyota Astra Motor, PT Toyota Motor Manufacturing Indonesia, Astro Entertainment SDN BHD, Danone Asia Private Limited, PT Perusahaan Gas Negara (Persero) Tbk.

Mergers & Acquisitions
Provided economics and competition assessment for clients, such as:
Itochu Corporation in filing mandatory post-merger KPPU notification of the Share Acquisition of PT Hexa Finance by Itochu Corporation and Century Tokyo Leasing Corporation.
Airbus Group in submitting a mandatory post-merger notification of a 100% share acquisition of Navtech Inc. by Airbus ProSky S.A.S, a part of Airbus Group, a European MNC designing, manufacturing and selling aircrafts on a worldwide basis.
Wilmar Group in filing mandatory post-merger KPPU notification of the Share Acquisition of Yihai Kerry (Lianyungyang) Aliphatic Amines Co Ltd by Clariant Participations Ltd and the Share Acquisition of Global Amines Company Pte Ltd by KOG Investments Pte Ltd.
PT XL Axiata Tbk in its purchase of 100% of the share capital of telco AXIS from Teleglobal Investments BV, a 100%-owned subsidiary of Saudi Telecom Company (STC) in mandatory post-merger notification to KPPU.

Competition Audit
Conducted competition audit for the companies engaging in the dairy, cement, food and beverages, consumer goods, and refreshments industries.