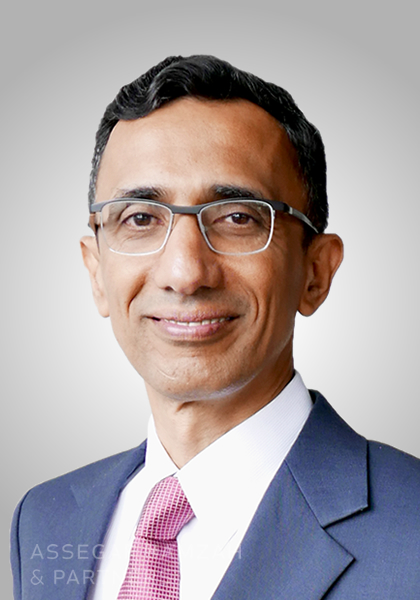 Ahmad Fikri Assegaf
With his extensive knowledge, incisive insights and practical hands-on approach, Fikri is widely recognised as one of the country's most talented and innovative lawyers in the banking and finance and projects, mergers and acquisitions, and capital markets arenas.

In the banking and finance and project arena, Fikri has represented a long list of blue-chip domestic and international financial institutions and investment funds in arranging corporate financing, while in his capital-markets practice, he has advised an array of prominent listed companies, in both private placements and public offerings of securities. In his mergers and acquisitions practice, Fikri has acted as counsel to buyers and sellers alike in major acquisitions involving public and private Indonesian companies operating across a wide range of sectors, including banking, petrochemicals, oil and gas, power generation, ICT, mining, and plantations.

During the height of the Asian economic crisis in 1998, besides representing creditors and borrowers in complex debt restructuring exercises, many of them ground-breaking in the Indonesian context, Fikri also extensively advised the Indonesian Bank Restructuring Agency (IBRA), which was established to nurse the country's banking sector back to health. In this capacity, he advised IBRA on corporate-debt restructurings, takeovers and recapitalisations in the financial sector, global asset recovery measures, and the creation of Bank Mandiri out of the ruins of the devastated Indonesian banking sector (Mandiri is now the country's largest bank). He also played a significant role in the drafting of new national banking legislation to prevent a repeat of the financial crisis – a legislation that has more than proved its worth by insulating Indonesia from the worst effects of the 2008-2009 international financial meltdown.

More recently, Fikri has carved out a reputation for himself as one of the country's foremost authorities on Islamic finance, having advised the Ministry of Finance in 2008 on the drafting of Indonesia's first Islamic bond legislation. He subsequently represented the Ministry in the successful launch of the country's debut international sovereign sukuk in August 2008.

Qualifications
LL.B., University of Indonesia (1992)
LL.M., Cornell Law School, United States of America (1994)
Licensed to practice law as an advocate by the Indonesian Bar Association (Peradi)

Memberships / Directorships
Member of the Indonesian Association of Capital Market Legal Consultants
Chairman of the Peradi Legal Aid Center (Pusat Bantuan Hukum Peradi), a Peradi unit that coordinates mandatory pro bono work by advocates

Publications
Public Companies and Negative List
Offshore Loan Reporting Obligation to Bank Indonesia
Accounting and Finance Principle Course

Recognition, Accolades & Awards
Named "The Deal Maker of the Year 2017" by Asian Legal Business
Ranked as "Band 1" lawyer in Corporate/M&A, Banking & Finance and Capital Markets; "Band 2" lawyer in Projects & Energy by Chambers Global & Asia Pacific (2014 to 2019)
Listed in The International Who's Who Legal in Capital Markets: Debt & Equity and Banking: Finance (2014 to 2019)
Named "Market Leader" in Banking, Capital Markets, Energy, Oil & Gas, Infrastructure, M&A, and Project Finance by the International Financial Law Review (2014 to 2019)
"Leading Individual" in Corporate/M&A, Banking & Finance and Capital Markets; Also featured in Projects & Energy Recognized by Legal 500 (2014 to 2019)
Named "Leading Lawyer" by Asialaw Profiles in Banking & Finance and Corporate/M&A (2014 to 2019)
Named "Managing Partner of the Year 2014" by Asian Legal Business in its inaugural Indonesian Law Awards