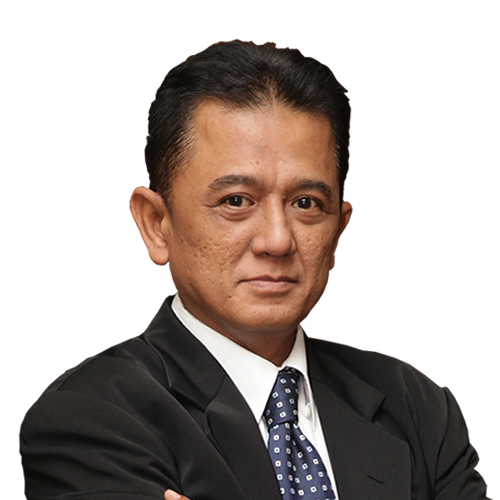 Qualification
Education
University of Indonesia, LL.B.
Licensed
Licensed to practice law as an advocate by the Indonesian Bar Association (PERADI)
Recognition, Accolades & Awards
Recognised as Noted Practitioner by Chambers Asia Pacific 2016
Leading Litigation Star by Benchmark Asia Pacific 2014
Recommended for Shipping and Dispute Resolution by Legal 500 Asia Pacific 2016
Membership & Associations
Centre for Indonesia Law and Policy Studies
Indonesia Association of Intellectual Property Attorneys
Member of the Audit Committee at the University of Indonesia
Publication
"The Legal Explanation of Sufficient Initial Evidence" (Jakarta, 2014)
Chandra is the co-founder of our firm. Besides being a well-respected litigator, he is also known as a staunch opponent of corruption. Chandra focuses his practice on commercial disputes, anticorruption and good corporate governance and intellectual property matters.

In the past, Chandra was intimately involved in advising the Indonesian Bank Restructuring Agency (IBRA) in its efforts to restore the domestic banking sector to health following its virtual collapse in the wake of the Asian Financial Crisis of 1997/1998. During this time, he acted for IBRA in a number of high-profile cases between 1998 and 2000. Most notable of these is undoubtedly his representation of IBRA in the Bank Bali case of 1998.

In the anticorruption arena, Chandra established his credentials as a member of the Attorney General's Office's Anti-Corruption Joint Investigation Committee in 2000-2001. Following a tight selection process, including vetting by a select committee made up of respected legal scholars and practitioners, in 2007, he was appointed by the President, on the recommendation of the House of Representatives, as a commissioner of Indonesia's high-powered anticorruption authority, the Corruption Eradication Commission (KPK), where he later served as vice chairman.

Since returning to the firm, Chandra has been instrumental in establishing our anticorruption compliance practice, which provides advice on compliance with both Indonesian and overseas anticorruption legislation, such as the US Foreign Corrupt Practices Act and the UK Bribery Act. Chandra's commitment to good corporate governance was also displayed and demonstrated during his tenure as the President Commissioner of PT PLN (Persero) in 2015.

Recently, he assisted the Indonesian Deposit Insurance Corporation in the preparation of an assessment on alternative bank resolutions and protocol for handling/aiding failed banks. He also assisted Bank Indonesia in setting out regulatory framework for the use of a national standard chip card specifications and PT Bank Mandiri (Persero) Tbk., in setting up a joint venture company which is engaged in end-to-end acquiring card business activities.

Prior to his appointment to KPK, Chandra was very active in Indonesia's legal professional organisations, and served as vice chairman of the Central Jakarta branch of the Indonesian Bar Association (IKADIN) from 2003 to 2007, vice chairman of the Indonesian Chamber of Commerce and Industry (KADIN)'s Legal Division (2005-2007), and chairman of the Indonesia Association of Intellectual Property Attorneys (2006-2007). He was also a member of various ad-hoc teams in the Ministry of Law and Human Rights that drafted several regulations.