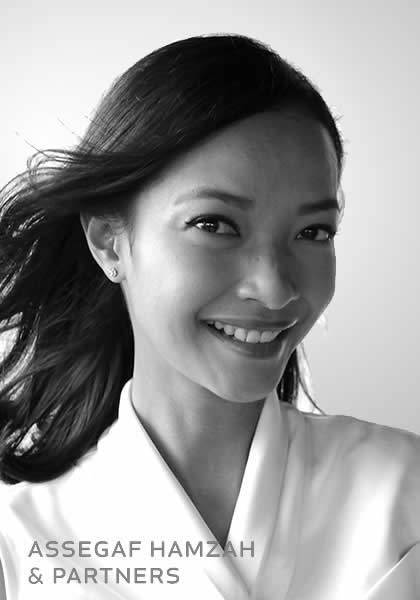 Angelica Ayu Maharani
Angelica commenced her legal practice in 2006 and joined AHP in 2010. Angelica focuses her practice on general corporate matters, with an emphasis in corporate restructuring, mergers and acquisitions, project finance and capital markets.

In the past, Angelica was an advocate's assistant and this experience provided her with a solid grounding in corporate and commercial matters, including mergers and acquisitions, foreign investment, joint ventures, capital markets, due diligence, drafting, reviewing commercial documents and general corporate advisory work. Angelica's clients include companies from various industries including IT, broadcasting, petrochemical, mining, e-commerce, financial and property.

Colleagues and clients praised Angelica for her responsiveness and quick turnaround times.

Qualifications
LL.B., University of Indonesia (2006)
LL.M., Rijk Universiteit, Groningen, the Netherlands (2010)
Licensed to practice law as an advocate by the Indonesian Bar Association (Peradi)

Notable Cases & Transactions
Merger and Acquisition
Advised PT Provident Agro Tbk., on the sale of four of its plantation subsidiaries to PT Galanggang Maju Bersama and PT Mandhala Cipta Purnama for a total consideration of IDR 2.6 trillion. Our scope of work included (i) reviewing the transaction documents; (ii) assisting the Client and its subsidiaries with the negotiation process; (iii) reviewing the conditions precedent; (iv) advising the Client on the overall divestment structure; and (v) assisting the Client with conducting an extraordinary general meeting of shareholders and in securing approval for the transactions from the Financial Services Authority (OJK).
Acted as Indonesian counsel to an Indonesian-based web portal start-up company on the restructuring its group companies in relation to the receipt of two tranches of investment, amounting to USD 1.2 million and USD 83 million.
Acted as counsel to a Japanese packaging company in its joint venture with an Indonesian packaging and manufacturing company.
Advised Southgate Ventures Pte Ltd, an educational services provider, on the restructuring of its group structure including its local foundations holding the management of the Singapore School in various cities in Indonesia.
Assisted PT Multimedia Nusantara (METRA), a subsidiary of PT Telekomunikasi Indonesia Tbk. (Telkom), the country's largest telecommunications provider, in relation to the establishment of a joint venture company with Australia-based telecommunications provider, Telstra Corporation Limited. METRA is the majority shareholder in the joint venture company.
Advised an Indian media company on its proposed acquisition of an Indonesian children broadcasting company.
Represented PT Recapital Advisors, an Indonesian private equity house, in a series of acquisitions in the coal mining, property, shipping and media sectors in Indonesia.
Represented PT HD Corpora and Wealth Paradise Holdings Ltd in the sale of 45% of the share capital (controlling interest) of PT HD Finance Tbk., to PT Tiara Marga Trakindo for a consideration of IDR 208.13 billion.
Advised the owner of a major Indonesian retail bakery chain on its sale to an international private equity investor.
Advising Nalco group on the establishment of a joint venture company in Indonesia to provide oil and gas support services.
Acted as counsel to Baring Private Capital Asia in its acquisition of a 41.65% stake in PT Cardig Air Services from PT Menara Nusantara through a call option mechanism.
Represented the shareholders of PT Multistrada Arah Sarana Tbk., an Indonesian tire producer, in the disposal of 20% shareholding in the company for a total consideration of approximately IDR 691.6 billion.
Represented PT Japfa Comfeed Indonesia Tbk., an agrifood company, in relation to its internal mergers with PT Bintang Terang Gemilang, PT Multipersada Agrinusa, and PT Multi Agro Persada.

Capital Market
Acted as Indonesian legal counsel to Japfa Ltd, an Indonesian agri-food company, in its SGD 198 million initial public offering (IPO), comprised of an international offering of 231.2 million shares and a Singapore public offering of 16.8 million shares.
Represented the issuer, parent guarantor and guarantors in the USD 23 million global bonds offering by PT Alam Sutera Realty Tbk., a wholly-owned subsidiary of PT Alam Sutera Tbk., a leading Indonesian real estate developer. The bonds are listed on the Singapore Exchange.
Assisted PT Bekasi Fajar Industrial Estate Tbk. (Bekasi Fajar), an industrial estate developer, in its pre-IPO restructuring and IPO (including conducting full due diligence on the company and its subsidiaries and submission of filings to OJK). The IPO raised IDR 300 billion.

Banking and Finance and Projects
Acted as counsel to PT Bank CIMB Niaga Tbk (CIMB Niaga) as lender on the approximately USD 76 million loan facility to PT Net Mediatama Televisi, which were used for intercompany transfer of assets, purchase of broadcasting equipment, construction and renovation of studios, acquisition of companies and development of programs. We assisted CIMB Niaga on preparation of the loan documentation including security documents and advising on Indonesian law-related matters.
Assisted Bekasi Fajar in its pre-IPO restructuring and IPO (including conducting full due diligence on the company and its subsidiaries and submission of filings to OJK).

Telecommunication Media and Technology
Assisted one of the largest Indonesian telecommunication provider companies in setting up a joint venture with a local telecommunication devices provider.
Advised METRA on the establishment of its joint venture with eBay International AG to operate a C2C online marketplace business in Indonesia.
Advised a Hong Kong-based media company on its investment in a local broadcasting company in Indonesia.
Acted as Indonesian counsel to PT Chandra Asri Petrochemical Tbk. (CAP) on the refinancing its debts through the redemption of notes issued by a CAP's wholly-owned subsidiary using funds obtained by CAP through new loan facilities extended by various Thai bank lenders, while simultaneously restructuring/amending the existing term loan facility of CAP. The total value of the combined transactions was approximately USD 555 million.
Assisted the establishment of a representative office of a technology company focusing in advertising services.

Employment
Advised an international air-conditioning firm on the drafting of standard form employment contracts for various levels in the company.
Assisted a local subsidiary of a state-owned company in determining the most suitable structure for its employees in the proposed spin-off plan.

Others
Advised Lotte Chemical Corp Korea, one of the largest chemical companies in Asia, on land acquisition and due diligence processes in respect of a large plot of land to be acquired by the client for the construction of a new cracker plant in the Cilegon Industrial Zone in Banten province.
Advised PT Restyle Concept on the procurement of land in the South Jakarta area. Negotiations are currently underway in respect of a 5,910 sqm plot after the earlier purchase of a 4,580 sqm plot for a consideration of IDR 113 billion.