As part of its rolling deregulation and economic reform program, the Government (through the Ministry of Manpower) has issued Minister of Manpower Regulation No. 35 of 2015 ("Reg. 35") to roll back some of the more burdensome requirements governing the employment of expatriate manpower and appointment of expatriate, non-resident corporate officeholders that were introduced by Minister of Manpower Regulation No. 16 of 2015 ("Reg. 16"), which was issued on 29 June 2015. Reg. 35 came into effect on 23 October 2015.
The key changes introduced by Reg. 35 are as follows:
1.    The abolition of the requirement that an employer of expatriate manpower must employ 10 Indonesians for every expatriate on the payroll.
2.    An Expatriate Employment Permit ("IMTA") is no longer required for expatriate directors, commissioners (or equivalent thereof) who are non-resident in Indonesia.
3.    An IMTA is no longer required in the case of expatriates who travel to Indonesia on a short-term basis for the following purposes:
•    Providing guidance and training in connection with industrial technology applications or innovations related to improvements in industrial product design and quality, and collaboration as part of efforts to market Indonesian products overseas.
•    Delivering lectures;
•    Attending meetings organized by head office or a representative office in Indonesia;
•    Competency assessment; and
•    One-off jobs.
However, an IMTA continue to be required for:
•    Production of a commercial film (that has been licensed/approved by the relevant authority);
•    Conducting of audits, quality control, or inspections at a branch office in Indonesia; and
•    Work related to the installation of machinery, electrical installation, after-sales service, and product feasibility assessments.
Reg. 35 also imposes a new prohibition on the employment of expatriates as members of the Supervisory Board (Board of Commissioners) of a company categorized under Indonesian investment law as a "domestic direct investment company."
The 10 : 1 Indonesian-expatriate ratio introduced by Reg. 16 (see point 1 above) was controversial from the outset, not least because it appeared to lack a clear statutory basis. Prior to Reg. 16, the Investment Coordinating Board ("BKPM") had applied its own ratio of 3 : 1 pursuant to BKPM Regulation No. 5 of 2013. However, this requirement was revoked in October by BKPM Regulation No. 15 of 2015. Consequently, there is currently no Indonesian-expatriate employee ratio requirement. However, it should be remembered that this situation could change at any time, depending on BPKM policy.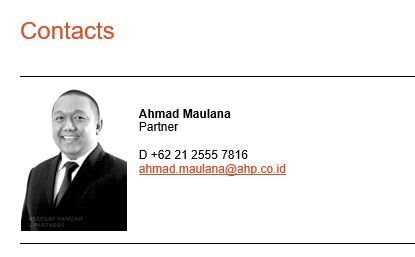 ***
AHP Client Alert is a publication of Assegaf Hamzah & Partners. It brings an overview of selected Indonesian laws and regulations to the attention of clients but is not intended to be viewed or relied upon as legal advice. Clients should seek advice of qualified Indonesian legal practitioners with respect to the precise effect of the laws and regulations referred to in AHP Client Alert. Whilst care has been taken in the preparation of  AHP  Client Alert, no warranty is given as to the accuracy of the information it contains and no liability is accepted for any statement, opinion, error or omission.