In February 2019, the Supreme Court, through the Directorate General of the General Judiciary issued a new guideline for the implementation of execution in district courts ("Guideline").
The application for and implementation of execution in Indonesia is a lengthy process and often, it may even exceed the duration of the trial. Indeed, this is acknowledged by the Supreme Court in the introduction to the Guideline. As such, the Guideline aims to ease and to expedite the execution process, particularly for civil court decisions, mediation/settlement resolutions, arbitration awards, decisions from labor court (Pengadilan Hubungan Industrial), competition authority (Komisi Pengawas Persaingan Usaha), consumer dispute settlement agency (Badan Penyelesaian Sengketa Konsumen), information commission (Komisi Informasi), as well as executorial deed (grosse akta) and security execution (eksekusi jaminan).
At a glance, the Guideline is divided into several sections: (i) execution, scope and settlement, (ii) registration of application for execution, (iii) application requirements for reminder (aanmaning) or execution, (iv) actual execution steps, (v) guidelines for cost calculation for reminder (aanmaning), confiscation and execution, (vi) arrangement of application for reminder (aanmaning) or execution, (vii) control of the execution file, and (viii) templates of application for execution.
In conclusion, the Supreme Court hopes that the Guideline will assist in streamlining the execution process by creating a standard operation procedure that are applicable to all district courts.
While the enactment of this Guideline may not be the ultimate answer to resolve issues surrounding execution in Indonesia, this Guideline manifests the Supreme Court's commitment in improving the executing contracts indicator in the framework of Ease of Doing Business in Indonesia.
Kindly contact us if you would like further information regarding the Guideline.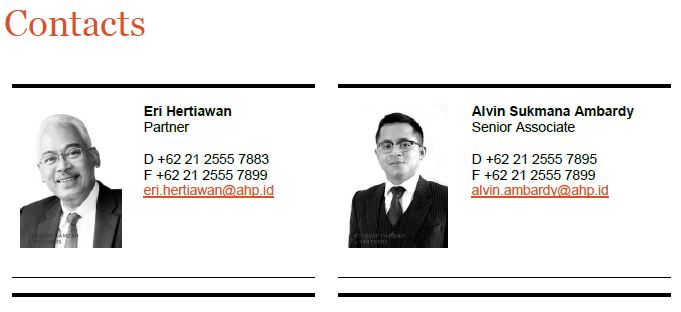 ***
AHP Client Alert is a publication of Assegaf Hamzah & Partners. It brings an overview of selected Indonesian laws and regulations to the attention of clients but is not intended to be viewed or relied upon as legal advice. Clients should seek advice of qualified Indonesian legal practitioners with respect to the precise effect of the laws and regulations referred to in AHP Client Alert. Whilst care has been taken in the preparation of  AHP  Client Alert, no warranty is given as to the accuracy of the information it contains and no liability is accepted for any statement, opinion, error or omission.