We are delighted to announce that the Singapore International Arbitration Center (SIAC) has appointed the co-head of our Disputes Resolution practice group, Mr. Eri Hertiawan S.H., LL.M., MCIArb, to be a member of the SIAC Court of Arbitration (SIAC Court). Eri is the first and only Indonesian advocate appointed to be a member of the SIAC Court. SIAC also invites Eri to join the prestigious list of SIAC arbitrators, which places him in a group of 33 of the most eminent arbitration specialists in the world.
Eri is renowned for his comprehensive legal expertise, with specialist knowledge in shipping, aviation and competition law, as well as commercial, and criminal matters. He has acted as counsel in many arbitration cases, handling matters for international and domestic clients including state-owned enterprises.
As a member of the SIAC Court, Eri will take part in the court's essential role of exercising judicial supervision over arbitration proceedings and ensuring that arbitration proceedings comply with the SIAC Rules. The SIAC Court's primary responsibilities also include appointing arbitrators as well as deciding on any challenges made against them, and assisting parties and arbitrators to overcome procedural obstacles.
Of his appointment, Eri says "SIAC is a premier international arbitral institution, and it is an honour to serve the SIAC Court. I have the greatest respect for my fellow court members and look forward to supporting SIAC's ongoing development as a leading force for dispute resolution in the region, particularly in Southeast Asia."
Welcoming the new court members, the SIAC Court President Mr Gary Born describes their "illustrious reputations and stature in the international arbitration community and deep specialist knowledge across diverse legal systems and cultures." Eri's appointment reflects his distinctive expertise as both a litigation lawyer and as an arbitration practitioner. As co-head of the AHP dispute resolution practice group, Eri's knowledge, skill, and integrity underscores AHP's reputation for principled, incisive, and efficient dispute resolution services.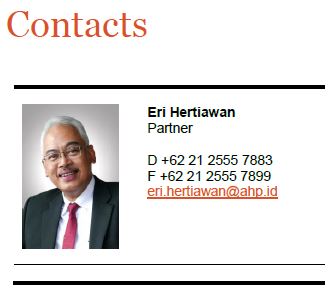 ***
AHP Client Alert is a publication of Assegaf Hamzah & Partners. It brings an overview of selected Indonesian laws and regulations to the attention of clients but is not intended to be viewed or relied upon as legal advice. Clients should seek advice of qualified Indonesian legal practitioners with respect to the precise effect of the laws and regulations referred to in AHP Client Alert. Whilst care has been taken in the preparation of  AHP  Client Alert, no warranty is given as to the accuracy of the information it contains and no liability is accepted for any statement, opinion, error or omission.