After a lengthy and dramatic setback, the House of Representatives has finally concluded the selection process of the new KPPU Commissioners. Previously, the President extended the tenure of the former KPPU Commissioners to 27 April 2018. On 23 April 2018, the House of Representatives officially appointed nine KPPU Commissioners for the 2018-2023 period. The appointment is effective from 2 May 2018 until 2022. Six out of the nine Commissioners are academics. That said, only two of those academics are well known in the field of competition law. Of the nine appointments, two Commissioners are long serving members of the KPPU in which one is a Commissioner from the previous period, and one is a KPPU staff. The remaining Commissioners are new appointments. Therefore, the majority of KPPU's new leadership are newcomers.
The ability of these new leaders to guide the KPPU so that it becomes a more effective and respectable competition watchdog remains to be seen. We hope that under the new leadership, there will be more credible enforcement acts from the KPPU that can improve the competition climate in Indonesia. The names of the new Commissioners, with a short description of their background, is as follows:
Dr. H. Afif Hasbullah, S.H., M.Hum.Afif Hasbullah obtained his bachelor's degree in laws from Islamic University of Indonesia in 2000. Afterwards, he continued his law education at Gadjah Mada University and obtained his Master of Laws in 2004. He was the Rector of Darul Ulum Islamic University from 2012 to 2017.
Dr. Drs. Chandra Setiawan, M.M., Ph.D.Chandra Setiawan earned a doctoral degree in finance from Graduate School of Management (now: Putra Business School), Putra Malaysia University. He is the only former KPPU Commissioner (from the period of 2012 – 2017) who is re-appointed for the period of 2018-2023. Aside from being KPPU commissioner, from 2012 to 2016, Chandra Setiawan also served as the Rector of President University from 2012 to 2016. Prior to his tenure at KPPU in 2012, Chandra Setiawan served as the Commissioner of the National Commission on Human Rights (Komnas HAM) from 2002 to 2007.
Dinni Melanie, S.H., M.E.Dinnie Melanie obtained her bachelor's degree in laws and master's degree in planning and public policy from University of Indonesia. Prior to her appointment as KPPU Commissioner, she was part of KPPU Secretariat, serving as the Head of the Registrar Department (Kepaniteraan) until 2016, and thereafter served an Investigator.
Dr. Guntur Syahputra Saragih, M.S.M.Guntur Syahputra is an academic from Department of Management, Faculty of Economics and Business, University of Indonesia. Currently, Guntur Syahputra actively teaches marketing management and strategic management at University of Indonesia. In addition, he also has an active role in the National Consumer Protection Agency.
Harry Agustanto, S.H., M.H.Harry Agustanto obtained his bachelor and master's degree in laws from University of Indonesia, having spent his academic years majoring in Business Law. He has been serving as an Expert Advisor at the House of Representative from 2011 to date.
Kodrat Wibowo, S.E., Ph.D.Kodrat Wibowo is an academic and researcher specializing in economics. Kodrat Wibowo currently serves as a lecturer at Faculty of Economics and Business, University of Padjajaran. His research interest is in the areas of public finance, decentralization, and econometrics. In addition to teaching economics at the University of Padjajaran, he is also a member of the Indonesian Economist Association and the International Regional Studies Association.
Kurnia Toha, S.H., LL.M., Ph.D.Kurnia Toha is an academician and researcher in competition and land law. He is currently registered as one of the lecturers at Faculty of Law, University of Indonesia. Prior to teaching law at the University of Indonesia, he served as Head of Legal and Public Relations at Ministry of Agriculture/National Land Agency, and Secretary of Board of Trustees at Persatuan Advokat Indonesia (Peradin). Particularly in competition law, he has published a number of legal journals, some of which used by KPPU when deciding cases.
Ukay Karyadi, S.E., M.E.Ukay Karyadi obtained his bachelor's degree in economics from University of Lampung. His experience includes being a researcher at the Institute of Marine Policy Studies, lecturer at Sampoerna School of Business and University of Siswa Bangsa Internasional, and management consultant and auditor at a public accountant firm in Indonesia. He often writes articles on maritime, agriculture, and public policy issues for the national mass media in Indonesia.
Yudi Hidayat, S.E., M.Si.Yudi Hidayat is an academic and researcher specializing in economics. He is currently registered as one of the lecturers at Faculty of Economics and Business, University of Indonesia and University of Prof. Dr. Moestopo Beragama.
We will keep you updated on this matter.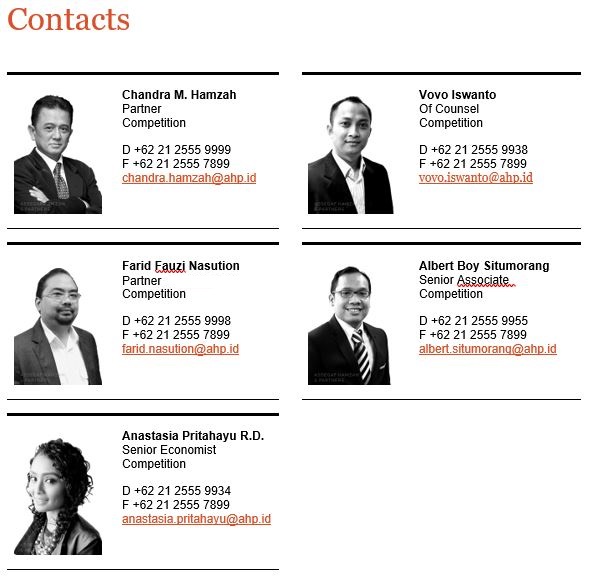 ***
AHP Client Alert is a publication of Assegaf Hamzah & Partners. It brings an overview of selected Indonesian laws and regulations to the attention of clients but is not intended to be viewed or relied upon as legal advice. Clients should seek advice of qualified Indonesian legal practitioners with respect to the precise effect of the laws and regulations referred to in AHP Client Alert. Whilst care has been taken in the preparation of  AHP  Client Alert, no warranty is given as to the accuracy of the information it contains and no liability is accepted for any statement, opinion, error or omission.