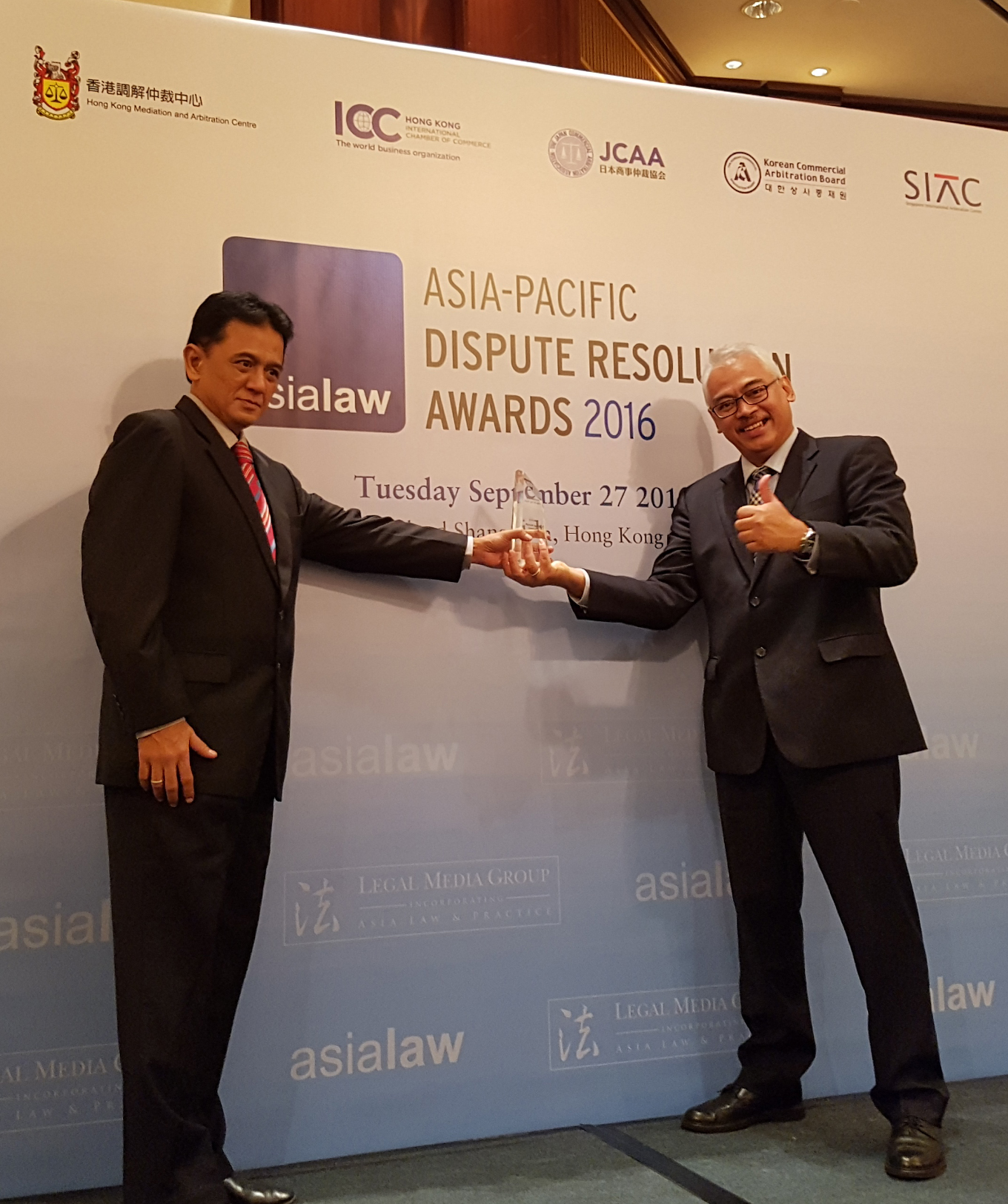 AHP Dispute Resolution and Litigation Dept. Head Mr. Chandra Hamzah (right) and Co-Head Mr. Eri Hertiawan hold up AHP's award for Indonesia National Law Firm of the Year at the Asialaw Asia-Pacific Dispute Resolution Awards in Hong Kong
AHP Partner Chandra Hamzah, the head of the firm's Dispute Resolution & Litigation Dept., had been shortlisted for the Indonesia Disputes Star of the Year award, but it was not to come his way this time around.
About Assegaf Hamzah & Partners
Assegaf Hamzah & Partners is a full service Indonesian law firm that has expanded rapidly since its establishment in 2001. Representing both Indonesian and international clients operating in a broad cross-section of industries, the firm is committed to providing apt and timely legal advice, and to offering comprehensive and holistic solutions to clients' legal and business needs.
Ranked as a top-tier firm in many practice areas by The Asia Pacific Legal 500, Chambers Asia Pacific and other respected legal publications, AHP is regularly recognized as "leading firm" and its lawyers as "leading individuals" across all main practice areas.
About Rajah & Tann Asia
Rajah & Tann Asia brings together leading law firms and lawyers in Cambodia, China, Indonesia, Lao PDR, Malaysia, Myanmar, Singapore, Thailand, the Philippines (effective 1 January 2017) and Vietnam, with each offering the highest standards of services to locally based clients, while collectively having the capacity to handle the most complex regional and cross-border transactions and to provide excellent legal counsel seamlessly across the region. With around 650 fee earners, all working towards one shared goal, we are lawyers who know Asia and who give our clients home advantage.
***
AHP Client Alert is a publication of Assegaf Hamzah & Partners. It brings an overview of selected Indonesian laws and regulations to the attention of clients but is not intended to be viewed or relied upon as legal advice. Clients should seek advice of qualified Indonesian legal practitioners with respect to the precise effect of the laws and regulations referred to in AHP Client Alert. Whilst care has been taken in the preparation of  AHP  Client Alert, no warranty is given as to the accuracy of the information it contains and no liability is accepted for any statement, opinion, error or omission.