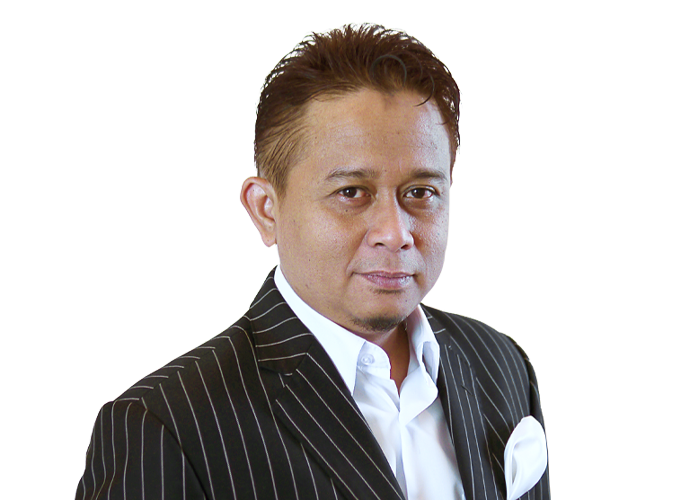 Qualification
Education
LL.B., Indonesia University, Indonesia
Licensed
Licensed to practice law as an advocate by the Indonesian Bar Association (PERADI)
Recognition, Accolades & Awards
The International Who's Who of Competition Lawyers (2012 to 2017). RikRik was the first Indonesian to achieve such acknowledgement.
A Leading Competition Expert in Indonesia by CHAMBERS, London (2017)
Alumni Award on Social-Politics, Faculty of Law of University of Indonesia (2017)
One of 40 Heroes of Philanthropy in Asia, FORBES (2017)
Asia Pacific Commended External Counsels of the Year (2017)
Membership & Associations
Board of Patrons: Indonesian Competition Lawyers Association (ICLA)
Treasurer: ASEAN Competition Institute
Founder, Chairman, Advisory board, Kinarya Didaktika Foundation, which runs the Cugenang Gifted School for children with special needs The Chief of the Supervisory Board at Perumda Pasar Jaya
Chairman and co-founder: Indonesian Community for Competition and Consumer
Member: Antitrust and International Antitrust Section at American Bar Association
Member: Perkumpulan Penasihat Hukum Persaingan Usaha Indonesia (Perkumpus)
Deeply involved in competition law for over 30 years, Rikrik advises on complex mergers, cartel investigations, consumer protection, corporate restructuring, dispute resolution and litigation. He has acted on some of the most significant merger clearances in Indonesia, including working with the Indonesian Competition Authority (KPPU) and international counsel on global merger projects for multinational companies such as: Lafarge S.A – Holcim; Nokia Corporation – Alcatel Lucent SA; GDF Suez International Power Plc; and BHP Biliton – Potash Corp. Of Saskatchewan Inc.

Rikrik played an instrumental role in drafting Indonesia's consumer and competition laws and is a leading authority in these fields. Rikrik coordinated the Ministry of Trade research committee's White Paper that formed the basis for the Indonesia Trade Act, which later evolved into the current competition law. He was also an expert consultant over Indonesia's consumer protection legislation. In this context, Rikrik also served as deputy director of enforcement for the Indonesian Competition Authority (KPPU), and as a consultant to a World Bank project tasked with supporting the KPPU in 2002-2003.

Prior to joining Assegaf Hamzah & Partners, Rikrik was co-founder of boutique competition firm Rizkiyana & Iswanto, one of only two antitrust practices in Indonesia listed by Global Competition Review as being in the "Elite" category. Rikrik has recently re-joined Assegaf Hamzah & Partners after fulfilling a year-long special appointment for the Jakarta provincial government. In this role, Rikrik was chief of the special team mandated to synchronise the Jakarta administration's laws and regulations (the Special Team for Regulatory Harmonization). During this time RikRik also headed Pasar Jaya: the Jakarta provincial government company that manages 153 traditional markets throughout Jakarta, and which are visited by more than 2 million people every day.

Law schools, businesses, government agencies, regulatory bodies and domestic and international publications frequently turn to Rikrik for advice, such as the KPPU, the Indonesian National Police, and the web-based legal publisher Hukumonline. His prominent corporate clients include: Goodyear Tyre, Pfizer-Dexa Medica, Barclay Premier League and Temasek, as well as Garuda Indonesian in relation to matters heard both in Indonesia as well as in Australia before the Australian Competition and Consumer Commission (ACCC).
Experience Highlight
Represented PT Yamaha Indonesia Motor Manufacturing as the defendant in a cartel case before the KPPU, during the appeal process before the North Jakarta District Court, and in the cassation process filed with the Supreme Court.
Represented PT Goodyear Indonesia Tbk following a KPPU investigation into an alleged tyre cartel, by submitting Goodyear's appeal to the District Court and cassation to the Supreme Court.
Successfully represented PT Garuda Indonesia (Persero) Tbk. against the Australian Competition and Consumer Commission before the Federal Court at first instance.
Successfully represented a multinational FMCG company in a monitoring case before KPPU.
Counsel to a business association in preliminary arguments before the KPPU in relation to allegations of a shipping cartel. Our defenses helped to persuade the KPPU to drop its inquiries.
Assisted Nokia Corporation to prepare and file the mandatory pot-merger notification of its acquisition of shares in Alcatel-Lucent SA and Comptel Corporation with the KPPU.
Assisted TechnipFMC plc. in filing a mandatory post-merger notification of its cross-border merger with Technip S.A. with the KPPU.
Assisted Lafarge S.A. in filing a voluntary pre-merger notification (consultation) of its acquisition of shares in Lafarge S.A. by Holcim Ltd to the KPPU.