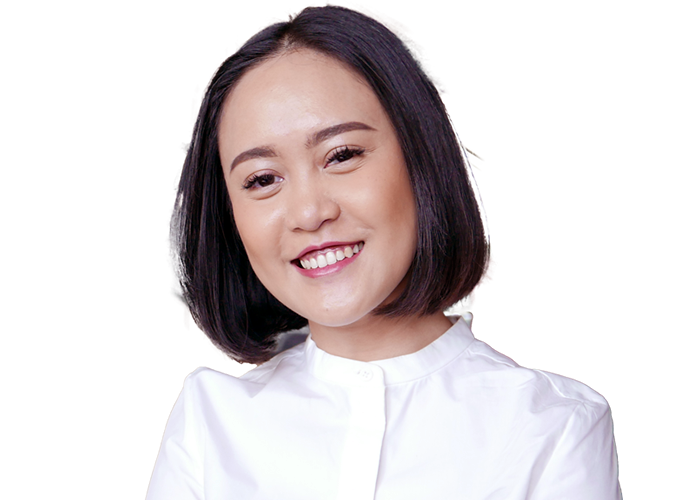 Qualification
Education
LL.B., University of Indonesia (2007)
L.LM., National University of Singapore (2011)
Licensed
Licensed to practice law as an advocate by the Indonesian Bar Association (PERADI)
Mita is a partner in the Capital Markets practice group since May 2019. She first joined AHP as an intern in 2007. Impressed by her legal and analytical skills, she was immediately hired as a junior associate upon the completion of her internship. 
Mita is a vital member of our Capital Markets practice group, bringing significant expertise and experience in guiding issuers and underwriters in transactions across the capital markets spectrum, including debt offerings, equity offerings, and rights issues. She is equally comfortable in assisting clients in their equity and debt listing in the Indonesia Stock Exchange, as well as the Singapore Exchange.  
In addition, Mita has also assisted clients in various corporate restructurings and merger & acquisitions transactions, including mandatory tender offers. Her clients come from various sectors which include petrochemical, rubber, oil and gas, telecommunications and agriculture.  
Experience Highlight
Capital Markets
Acted as lead counsel in PT Medco Energi International Tbk.'s rights issue. Medco, Indonesia's integrated energy company, intended to increase its capital by issuing rights issue to its shareholders of up to 7.5 billion new shares with a nominal value of IDR 25 per share. The rights issue was carried out in accordance with OJK Regulation No. 32/POJK.04/2015 on Pre-Emptive Rights. 
Acted as counsel to PT Medco Energi Internasional Tbk. on the issuance of IDR 1.5 billion Shelf-Registered Domestic Bonds in two series, both of which are listed on the IDX. 
Acted as counsel to PT Barito Pacific Tbk. as the issuer. Barito listed its Shelf Registered Bond I, Tranche II 2020 on 2 April 2020, structuring the issuance in two series, totalling IDR 363.48 billion. 
Acted as lead counsel in the issuance of PT Chandra Asri Petrochemical Tbk.'s Shelf Registration Bonds. CAP officially listed its Shelf Registered Bond II Tranche III 2020 of IDR 750 billion 8.7% fixed interest due in 2025 on 13 February 2020. 
Acted as lead counsel in the issuance of PT Chandra Asri Petrochemical Tbk.'s Shelf Registration Bonds. CAP officially listed its Shelf Registered Bond III Tranche I 2020 on 27 August 2020, structuring the issuance in three series, totalling IDR 900 billion. 
Acted as lead counsel in the issuance of PT Chandra Asri Petrochemical Tbk.'s Shelf Registration Bonds. CAP officially listed its Shelf Registered Bond III Tranche II 2020 of IDR 500 billion 8.2% fixed interest due in 2023 on 5 November 2020. 
Acted as the Indonesian counsel to PT Medco Energi Internasional Tbk. ("Medco"). Medco, which is listed on the IDX, through its subsidiary, Medco Bell Pte. Ltd, issued USD 650 million 6.375% Senior Notes due 2025. The notes are listed on the Singapore Exchange. 
Acted as the Indonesian legal counsel for PT Medco Energi Internasional Tbk. ("Medco"), through its wholly owned subsidiary, Medco Oak Tree Pte. Ltd., issued USD 650 million 7.375% Senior Notes due 2026. The notes were guaranteed by Medco, as the parent guarantor, and some of its subsidiaries. The deal won High Yield Deal of the Year from IFLR Asia Awards 2020. 
Acted for PT Medco Energi Internasional Tbk., in the issuance of notes through its wholly-owned subsidiary, Medco Oak Tree Pte. Ltd. The notes were listed in SGX. (2019) 
Act for PT Kirana Megatara Tbk., in the issuance of pre-emptive rights in relation to the Limited Public Offering I of PT Kirana Megatara Tbk. (2018) 
Act for PT Merdeka Copper Gold Tbk., in the issuance of pre-emptive rights in relation to the Limited Public Offering I of PT Merdeka Copper Gold Tbk. (2018) 
Act for PT Barito Pacific Tbk., in the issuance of pre-emptive rights in relation to the Limited Public Offering II of PT Barito Pacific Tbk. (2018) 
Act fo rPT Chandra Asri Petrochemical Tbk., in phase I of the multiple tranches issuance of the IDR bond. (2018) 
Act for PT Medco Energi Internasional Tbk., in phase I of the multiple tranches issuance of the IDR bond issuance III. (2018) 
Act for PT Medco Power Indonesia in its DR bond issuance and Sukuk Wakalah. (2018) 
Act for PT Chandra Asri Petrochemical Tbk., in phases I and II of the multiple trances issuance of the IDR bond issuance I. (2017 - 2018) 
Act for PT Medco Energi Internasional Tbk., in the issuance of notes through its wholly-owned subsidiary, Medco Platinum Road Pte. Ltd. The notes were listed in SGX. (2018) 
Act for PT Chandra Asri Petrochemical Tbk., in the issuance of notes. The notes were listed in SGX. (2018) 
Act for PT Kirana Megatara Tbk., in its initial public offering. (2017) 
Act for PT Chandra Asri Petrochemical Tbk., in the issuance of pre-emptive rights in relation to the Limited Public Offering II of PT Chandra Asri Petrochemical Tbk. (2017) 
Act for PT Medco Energi Internasional Tbk., in the issuance of pre-emptive rights in relation to the Limited Public Offering II of PT Medco Energi Internasional Tbk. (2017) 
Act for PT Medco Energi Internasional Tbk., in the issuance of notes through its wholly-owned subsidiary, Medco Strait Services Pte. Ltd. The notes were listed in SGX. (2017) 
Act for PT Medco Energi Internasional Tbk., in phases IV, V and VI of the multiple tranches issuance of the IDR bond issuance II. (2017) 
Act for PT Graha Layar Prima Tbk., in the issuance of pre-emptive rights in relation to the Limited Public Offering I of PT Graha Layar Prima Tbk. (2016) 
Act for PT Medco Energi Internasional Tbk., in phases I, II and III of the multiple tranches issuance of the IDR bond issuance II. (2016) 
Act for PT Tower Bersama Infrastructure Tbk., in phase I of the multiple tranches issuance of the IDR bond. (2016) 
Act for PT Merdeka Copper Gold Tbk in its initial public offering. (2015) 
Act for PT Medco Energi Internasional Tbk., in the issuance of multicurrency bond, which was listed in SGX. (2015) 
Act for PT Tower Bersama Infrastructure Tbk., in phase II of the multiple tranches issuance of the IDR bond. (2015) 
Act for PT Tower Bersama Infrastructure Tbk., in the issuance of notes through its wholly-owned subsidiary. The notes were listed in SGX. (2015) 
Act for the underwriters in the initial public offering of PT Sawit Sumbermas Sarana Tbk. (2014) 
Act for PT Graha Layar Prima Tbk in its initial public offering. (2014) 
Act for PT Medco Energi Internasional Tbk., in phase II of the multiple tranches issuance of the IDR bond issuance. (2013) 
Act for PT Alam Sutera Realty Tbk., in the issuance of notes through its wholly-owned subsidiary. The notes were listed in SGX. (2013) 
Act for PT Tower Bersama Infrastructure Tbk., in phase I of the multiple tranches issuance of the IDR bond. (2013) 
Act for PT Tower Bersama Infrastructure Tbk., in the issuance of notes through its wholly-owned subsidiary. The notes were listed in SGX. (2013) 
Act for PT Medco Energi Internasional Tbk., in phase III of the IDR bond issuance. (2012) 
Act for PT Medco Energi Internasional Tbk., in phase III of the multiple tranches issuance of the USD bond. (2012) 
Act for PT Medco Energi Internasional Tbk., in phase I of the multiple tranches issuance of the IDR bond. (2012) 
Act for PT Japfa Comfeed Indonesia Tbk., in phases I and II of the multiple tranches issuance of the IDR bond. (2011 - 2012) 
Act for PT Alam Sutera Realty Tbk., in the issuance of notes through its wholly-owned subsidiary. The notes were listed in SGX. (2011) 
Act for PT Bank Tabungan Pensiunan Nasional Tbk in its initial public offering. (2008) 
Act for PT Indosat Tbk., in the IDR bond issuance VI. (2008) 
Act for PT AdeS Waters Indonesia Tbk. in the issuance of pre-emptive rights in relation to the Limited Public Offering II of PT AdeS Waters Indonesia Tbk. (2007) 
Mergers and Acquisitions
Act for PT Chandra Asri Petrochemical Tbk, in a merger with PT Petrokimia Butadiene Indonesia. (2019) 
Act for PT Saratoga Investama Sedaya Tbk., in the acquisition of PT Mitra Pinasthika Mustika Tbk., through a voluntary tender offer process. (2018) 
Act for PT Bank Tabungan Pensiunan Nasional Tbk., in a merger with PT Bank Sumitomo Mitsui Indonesia. (2018) 
Act for DKSH Holding AG in the acquisition of and the mandatory tender offer on PT Wicaksana Overseas International Tbk. (2017) 
Act for PT Amanda Cipta Persada in the acquisition of and the mandatory tender offer on PT Golden Retailindo Tbk. (2016) 
Act for PT Mitrasraya Adhijasa in a merger with PT Stannia Bhinekajasa. (2016) 
Act for PT Daria Varya Laboratoria Tbk., in a merger with PT Pradja Pharin. (2015) 
Act for Gallant Venture Ltd in the acquisition of PT Indomobil Sukses Internasional. (2013) 
Act for PT Holcim Indonesia Tbk., in a merger with PT Semen Dwima Agung. (2011) 
Act for PT Japfa Comfeed Indonesia Tbk., in a merger with PT Multi Agro Persada. (2010) 
Act for PT Barito Pacific Tbk., in the acquisition of PT Tri Polyta Indonesia Tbk. (2008)  
Act for PT Titan Petrokimia Nusantara in a due diligence process in relation to the acquisition by PT Fatrapolindo Nusa Industri Tbk. (2007) 
Act for PT Alfa Retailindo in conducting legal due diligence for the acquisition by PT Carrefour Indonesia. (2007)