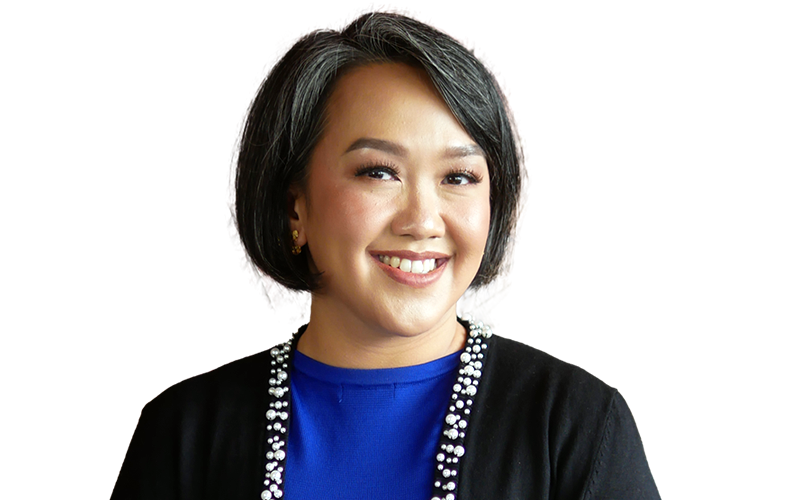 Qualification
Education
LL.B., University of Indonesia (2005)
LL.M., Erasmus University Rotterdam, (2014)
Licensed
Licensed to practice law as an advocate by the Indonesian Bar Association (PERADI)
Mita started her legal career shortly after her graduation in 2005. She first joined a corporate law firm as an intern, assisting in various capital market matters. Then, she joined another prestigious corporate law firm in Indonesia where she built her career there for almost 10 years until she reached a Senior Associate level.

Mita's area of practice include Capital Markets and Merger & Acquisition, with strong suit in banks and financial institutions.

In the field of Mergers & Acquisition, she is a well-grounded legal counsel. Her experience spanned in a broad range of aspects as she successfully represented clients from many different standpoints. Her high-profile transactions include assisted buyers in the acquisitions of Indonesian banks, represented Indonesian state-owned company in the acquisition of insurance company, and represented Indonesian state-owned company in an acquisition of Vietnamese cement company.

While in the field of Capital Markets, Mita is as competent and reliable. She involved in one of the biggest rights issue by a state-owned bank in 2011, represented a consumer goods company in its public offering process, and represented an Indonesian state-owned bank in its subordinated debts issuance.
Experience Highlight
Acted for General Atlantic, a leading global growth equity firm, and GGV Capital, a pre-eminent global venture capital firm, in its USD 150 million Series C investment in Ruangguru, an Indonesian technology company focusing on web-based education services. This investment is one of the largest fundraisings for an education technology company in Southeast Asia.
Acted for SCG Packaging Public Company Limited, a subsidiary of a giant Thai conglomerate, on its IDR 9.61 trillion (approximately USD 680 million) acquisition of 55% shares of PT Fajar Surya Wisesa Tbk., from its founders and other shareholders. Following the acquisition, SCG will conduct a mandatory tender offer under the Indonesian capital markets law.
Acted as the Indonesian counsel to PT Mitra Pinasthika Mustika Tbk. ("MPM") in a USD 436 million acquisition of an Indonesian lubricant manufacturer and marketer, PT Federal Karyatama, from MPM by Esso Petroleum Co. Ltd. and ExxonMobil UK Limited. We advised on all Indonesian law matters relevant to the transaction, including both M&A and competition aspects of the deal.
Represented Toppan Printing Co. Ltd., a Japanese global printing company, on its joint venture with Plasindo Group companies (an Indonesian manufacturer of food packaging materials). Plasindo's ultimate shareholders and Toppan Japan wished to create a joint venture to combine the two industries: flexible packaging by Toppan and manufacturing of film and flexible packaging by Plasindo. The transaction was completed in two stages: Stage 1: Internal restructuring of Plasindo group companies and an in-kind capital injection. Stage 2: Toppan's investment by in kind contribution of Toppan Indonesia shares resulting in Toppan gaining 51% control over the JVCo. As M&A counsel, we provided general advisory on the structure, prepared transaction documents and all corporate actions in stage 2. We saw the deal through to a successful closing after 3 years of working on the JV.
Represented PT Provident Agro Tbk, a prominent palm oil plantation company, in the strategic divestment of its 100% stake in its subsidiaries, namely PT Transpacific Agro Industry, PT Sumatera Candi Kencana, and PT Langgam Inti Hibrindo, to various local investors. The transaction value is approximately IDR 1.5 trillion (USD 103 million).
Represented Indonesian private equity house, PT Recapital Securities, in the divestment of its stake in PT Bank Pundi Indonesia Tbk (now Bank Banten) to PT Banten Global Development, a regional state-owned enterprise and a business arm of Banten Province Regional Government. The divestment was structured in three stages. In the first and second stages, the divestment was carried out through Bank Pundi's Rights Issue. The third stage was conducted through sale and purchase agreements.