On 21 June 2018, the Government of the Republic of Indonesia issued Government Regulation No. 24 of 2018 on Electronic Integrated Business Licensing Services (GR No. 24/2018). In addition to improve the ease of doing business and increase investment in Indonesia, GR No. 24/2018 reflects the Government's objective to shift from its pre-commencing supervision system to post-commencing supervision. This is done by reducing a large number of required business licenses and permits as well as simplifying their application processes.
The Online Single Submission Portal
One of the mandates of GR No. 24/2018 is to establish the so-called Online Single Submission (OSS) portal, an online platform that integrates the process of applying for multiple regulatory permissions in one place. The OSS portal is aimed at providing businesses a one-stop shop with a 24-7 service for receiving all clearances. The social security programs (BPJS), location permits, environmental license, building construction permit (IMB) and foreign employees utilization plan (RPTKA) are amongst the licenses and permits that can be granted via the OSS portal.
The OSS portal will be operated and managed by the so-called OSS Body. Based on the definition provided in GR No. 24/2018, the Investment Coordinating Board (BKPM) will likely be the OSS Body. Nevertheless, in the interim, the OSS portal will be spearheaded by the Coordinating Ministry for Economic Affairs (CMEA) until BKPM is deemed ready to take over.
While it remains to be seen how this OSS portal will work, as it just became operational on 9 July 2018, it is hoped that this will lead to the ease of filing applications and online payment of license fees.
Key Implications
Ongoing applications with BKPM will be processed by the OSS portal
As a result of the issuance of GR No. 24/2018, BKPM has suspended all processing and issuance of permits and licenses as of 29 June 2018. In respect of any applications that were submitted prior to 29 June 2018, GR No. 24/2018 provides that such applications will be processed by the OSS portal. However, it remains to be seen how this will work out in practice – for example, whether applicants will need to resubmit their application through the OSS portal or their application are considered submitted and they only need to create an account on the OSS portal and await feedback from CMEA/the OSS Body.
Registration requirement for existing businesses
Although most provisions in GR No. 24/2018 are related to starting a business, there are few provisions that concern existing businesses, both foreign direct investment (PMA) and domestic investment (PMDN) companies. Based on our understanding of Article 104 of GR No. 24/2018, existing businesses must observe the following:
An existing business that currently holds an interim investment license from BKPM (e.g. an in-principle license or investment registration) will need to apply for a business license and/or commercial operation license through the OSS portal;
An existing business that currently holds a business license from BKPM and/or other government institutions and wishes to, for example, expand its business or investments will have to apply for all required licenses, approvals or permits through the OSS portal; and
All existing businesses must create an account on the OSS portal and apply for a single business number (Nomor Induk Berusaha or NIB), which is a unique identification number.
Corporate Actions Post-GR No. 24/2018
Previously, all corporate actions involving a PMA company (e.g. change of shareholders of a PMA company, change of capital structure of a PMA company and/or conversion of a PMDN company into a PMA company) would typically require an approval from BKPM (in addition to other approvals from/notifications to other government authorities such as the Ministry of Law and Human Rights (MOLHR)). Under GR No. 24/2018, such an approval is no longer required.
According to guidelines issued by the CMEA on the use of the OSS portal, corporate actions undertaken by an existing company that will involve the amendment of its articles of associations (anggaran dasar) or its company information (data perseroan) will take place outside of the OSS portal ecosystem. The company in question will need to liaise with a public notary and prepare the necessary notarial deed to reflect the amendment. To the extent required by law/regulation, this can be done only after obtaining required approvals from other relevant government authorities.
Once the notarial deed has been signed by the relevant parties, the notary will then notify the amendment to the MOLHR through the general legal administration online system (Ditjen AHU Online). Given the integration between the Ditjen AHU Online and the OSS portal, the information of the relevant company will be automatically updated on its OSS account.
Conclusions
For an initiative of this scale, it is expected that the implementation of GR No. 24/2018 will require the adjustments of other related existing regulations, systems and procedures at all levels (both the central and regional governments). Therefore, we would anticipate some issues and uncertainties arising during the transition period. Despite all that, this effort by the Government is a positive step to the right direction.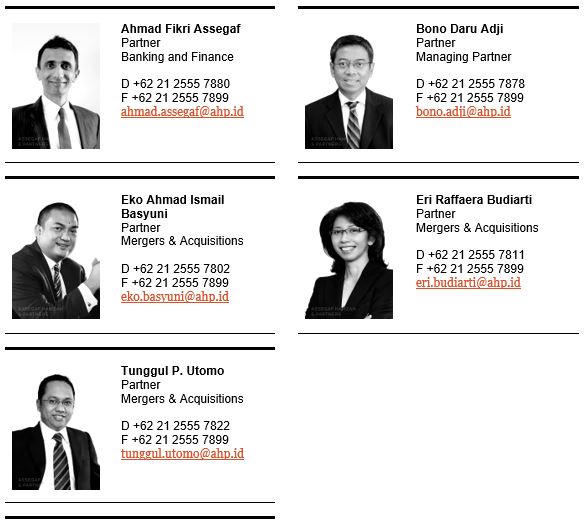 ***
AHP Client Alert is a publication of Assegaf Hamzah & Partners. It brings an overview of selected Indonesian laws and regulations to the attention of clients but is not intended to be viewed or relied upon as legal advice. Clients should seek advice of qualified Indonesian legal practitioners with respect to the precise effect of the laws and regulations referred to in AHP Client Alert. Whilst care has been taken in the preparation of  AHP  Client Alert, no warranty is given as to the accuracy of the information it contains and no liability is accepted for any statement, opinion, error or omission.