Foreign direct investment in hospital business in Indonesia is currently regulated by the Presidential Regulation No. 44 of 2016 on Lists of Business Fields that are Closed to and Business Fields that are Open with Conditions to Investment (the "Negative List") and Ministry of Health ("MOH") Regulation No. 56 of 2014 on Classification and Licensing of Hospitals ("Regulation 56/2014"). The Negative List allows up to 67% foreign investment in a hospital (or, 70% if the investor is domiciled in ASEAN countries) and foreign investment must also comply with the procedure under Regulation 56/2014 to establish, manage and classify a hospital.
Based on a confirmation received from an official of the Ministry of Health, the Government, through the Ministry of Health of the Republic of Indonesia is now planning to revise Regulation 56/2014 in order to increase foreign investment into classes A and B hospital, as the number of classes A and B hospitals is currently lower than classes C and D hospitals. The proposed revision will not only reflect the new licensing regime under the Online Single Submission system, but also establish a stricter limitation for foreign direct investment in hospital business. Under the proposed revision, foreign direct investment may only be made in general and specialized hospitals under classes A and B that operate a minimum of 200 beds. This is different from the current limitation of foreign direct investment under the Negative List, which only limits the amount of investment to 67% (or, 70% if the investor is domiciled in ASEAN countries) but does not limit the classes of hospital where such investment can be made. As of now, it is still unclear whether the proposed revision will replace or complement the current foreign ownership restriction under the Negative List.
The official at the Ministry of Health expects the revision to be issued by the end of 2018. Pending the issuance of the proposed revision, the foreign ownership restriction under the Negative List will continue to apply.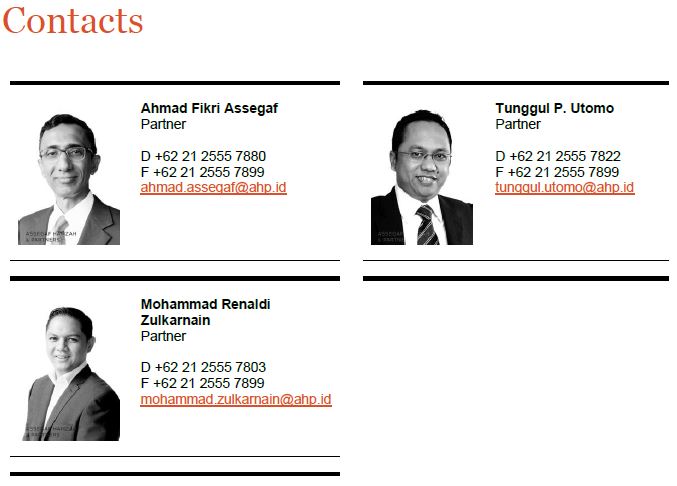 ***
AHP Client Alert is a publication of Assegaf Hamzah & Partners. It brings an overview of selected Indonesian laws and regulations to the attention of clients but is not intended to be viewed or relied upon as legal advice. Clients should seek advice of qualified Indonesian legal practitioners with respect to the precise effect of the laws and regulations referred to in AHP Client Alert. Whilst care has been taken in the preparation of  AHP  Client Alert, no warranty is given as to the accuracy of the information it contains and no liability is accepted for any statement, opinion, error or omission.