Within less than a month of closing a pioneering corporate sustainability bond, Indonesia has led the world in issuing the first-ever sovereign green sukuk bond. AHP is proud to have played a key role in both transactions.
Sovereign Green Sukuk Bond
1 March 2018, Indonesia became the first country ever to issue a green sukuk bond. AHP advised the Government of Indonesia on the transaction, drawing on the firm's extensive expertise in this field. Partner Ahmad Fikri Assegaf advised the Ministry of Finance in 2008 on the drafting of Indonesia's first Islamic bond legislation, and AHP's expert team has built a stellar reputation for its role in advising the Government on sukuk issuance.
Indonesia's maiden sovereign green sukuk is structured as a five-year, US dollar-denominated sukuk bond of USD 1.250 billion, offering a periodic distribution amount of 3.75 as part of a USD 3 billion dual-tranche sukuk. The second tranche is a USD 2.750 billion wakala sukuk of 4.40 percent periodic distribution amount With this issuance, the Indonesian government aims to boost the share of renewable energy in Indonesia to more than 20% by 2026, which is a 17% increase from the current levels of less than 3%.
Indonesia's move demonstrates the government's recognition and support for robust investor demand in the market for environmentally-friendly finance. The government will allocate the proceeds of the bonds to climate and/or environment-related projects, including renewable energy, sustainable transport, waste management, green engineering and green buildings.
Green Financing for PT Royal Lestari Utama to Support Local Communities and the Environment
This landmark sukuk came directly after AHP advised the borrowers, PT Royal Lestari Utama ("PT Royal Lestari"), in relation to a pioneering corporate sustainability bond. Valued at US$95 million, the corporate green bond issuance (23 February 2018) was the first of its kind in Asia.
PT Royal Lestari is an Indonesian joint-venture between Barito Pacific Group and France's Michelin, which was established to support wildlife and socio-economically advanced natural-rubber initiatives. PT Royal Lestari will use the proceeds of the bond to finance sustainable rubber plantations on heavily degraded land in Jambi, Sumatra, and East Kalimantan provinces.
The Tropical Landscapes Finance Facility ("TLFF") – a special purpose vehicle established specifically for this project through collaboration between UN Environment, World Agroforestry Centre, ADM Capital and BNP Paribas – issued the bond, which itself represents a pioneering method through which to mobilize private finance to support sustainability goals.
At the bonds' maturity, the natural rubber plantation is expected to provide approximately 16,000 fair-wage jobs, offering a critical source of productive employment for local communities. Moreover, the planted areas will serve as a buffer zone to protect Bukit TIgapuluh National Park, which is one of the last areas in Indonesia where elephants, tigers, and orang-utans coexist.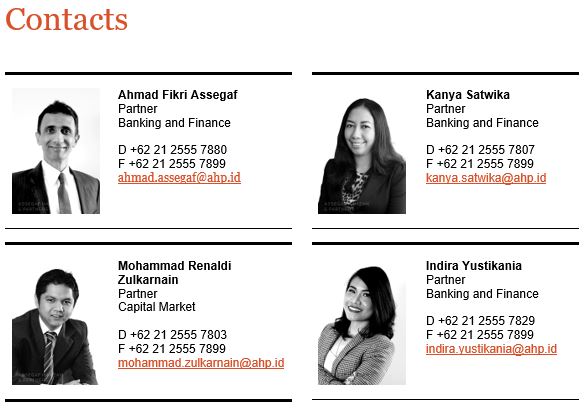 ***
AHP Client Alert is a publication of Assegaf Hamzah & Partners. It brings an overview of selected Indonesian laws and regulations to the attention of clients but is not intended to be viewed or relied upon as legal advice. Clients should seek advice of qualified Indonesian legal practitioners with respect to the precise effect of the laws and regulations referred to in AHP Client Alert. Whilst care has been taken in the preparation of  AHP  Client Alert, no warranty is given as to the accuracy of the information it contains and no liability is accepted for any statement, opinion, error or omission.