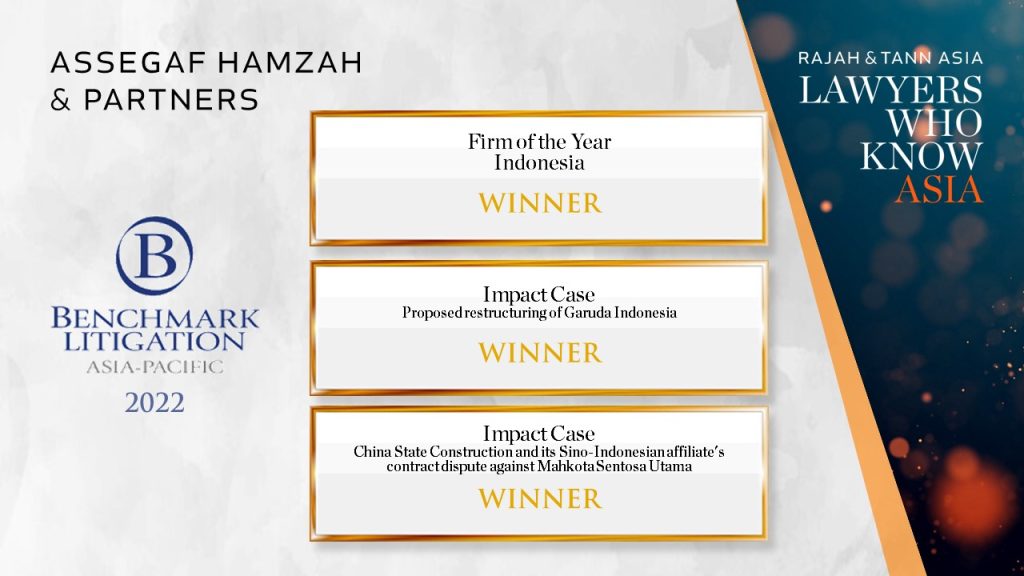 We are pleased to announce that AHP has won the title of "Indonesia Firm of the Year" for 2 consecutive years at the Benchmark Litigation Asia-Pacific Awards 2022. We were also awarded 2 Impact Case awards for the following deals:
– Proposed restructuring of Garuda Indonesia
– China State Construction and its Sino-Indonesian affiliate's contract dispute against Mahkota Sentosa Utama
Our very own Yogi Sudrajat, partner and head of the Real Estate practice group, has also been recognised for his achievements as a Runner Up in the "Indonesia Lawyer of the Year" category.
Lastly we would like to extend our congratulations to our teams across the Rajah & Tann Asia network—our colleagues at Rajah & Tann Singapore won "Singapore Firm of the Year", "Insolvency Firm of the Year", 3 Impact Case awards, and was Runner Up for "Commercial and Transactions Firm of the Year", and "Labour and Employment Firm of the Year". Meanwhile, our colleagues at R&T Asia (Thailand) was named as Second Runner Up for "Thailand Firm of the Year".
Link to RTA's post: https://lnkd.in/dc-nU5WG
A big thank you to our clients for their unwavering support and to all members of our firm for their brilliant efforts and dedication.
To see the full list of winners, click here: https://lnkd.in/dy5bS3My
#AHP#AHPAccolades#BenchmarkLitigationAwards#FirmoftheYear#LawyersWhoKnowAsia