8 July 2019 – Assegaf Hamzah & Partners ("AHP") today announced the formation of a new practice within its Dispute Group, Forensics & Fraud Investigation.
Heading this new practice is Amien Sunaryadi, the vastly experienced former Head of SKK Migas (2014-2018), the Indonesian government body responsible for managing Indonesian oil and gas resources. Mr. Sunaryadi led the modernisation and improvement to SKK Migas' corporate governance, transparency, and supervision of contractors under the cooperation contract scheme, especially in relation to cost recovery, among many accomplishments.
An accountant by training, Mr. Sunaryadi is known to be detail-oriented and progressive. Prior to SKK Migas, Mr. Sunaryadi was a Partner in the fraud investigation department of one of the big four accounting firms, Senior Governance and Anti-Corruption Officer at World Bank Indonesia, and Vice-Commissioner of the Indonesian Anti-Corruption Commission (Komisi Pemberantasan Korupsi) or KPK. He played a significant role in bringing progressive changes in KPK, most notably by implementing a 'search and surveillance' system to reveal high profile corruption cases and instituting the foundation of today's KPK.
Bono Daru Adji, Managing Partner of AHP, said, "Mr. Sunaryadi is a well-rounded and highly-respected individual who will be invaluable to our practice and enhance our clients' representation. This practice services the growing demands of our clients and we believe that the addition of this new practice will give our clients the benefit and convenience. In addition, Mr. Sunaryadi's experience is very much aligned with our values as a firm, especially in upholding integrity and the highest ethical standards."
"With our clients' goals always at the forefront of our mind, coupled with the increasing global focus on combating fraud, bribery and corruption, we realise that companies need to do more to manage their risks and protect their reputation," added Bono.
AHP is the first law firm in Indonesia to establish a dedicated practice for forensics and fraud investigation. The Forensics & Fraud Investigation will assist companies in protecting their reputation by leveraging data analytics to improve their compliance and investigation outcomes. The establishment of this new practice is in line with AHP's goal to continuously innovate and break the traditional idea of what a law firm is.
The Forensics & Fraud Investigation Practice will benefit from seamless collaboration with other practice groups, such as Capital Markets, Banking & Finance, Competition, Mergers & Acquisitions, and Alternative Dispute Resolution and Court Litigation. In addition, the practice will also complement the existing e-discovery practice in Rajah Tann Technologies.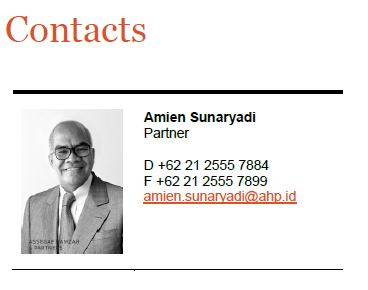 ***
AHP Client Alert is a publication of Assegaf Hamzah & Partners. It brings an overview of selected Indonesian laws and regulations to the attention of clients but is not intended to be viewed or relied upon as legal advice. Clients should seek advice of qualified Indonesian legal practitioners with respect to the precise effect of the laws and regulations referred to in AHP Client Alert. Whilst care has been taken in the preparation of  AHP  Client Alert, no warranty is given as to the accuracy of the information it contains and no liability is accepted for any statement, opinion, error or omission.