In line with our award as "The Most Innovative Law Firm" from Legal Media Group in 2018, AHP recently launched "AHPtalk", a free platform for clients to access our vlogs and podcasts. Going forward, "AHPtalk" will cover a range of issues relating to Indonesian laws and legal development to give our clients updates and exceptional insight.
In the first episode of "AHPtalk", Farid Nasution, a partner in the Competition practice group, discusses the major developments in the enforcement of competition law in Indonesia in 2018 and a general outlook of expected developments for 2019.
You can listen or view "AHPtalk" at your own convenience from your desktop, laptop, tablet or mobile device by clicking on the following link: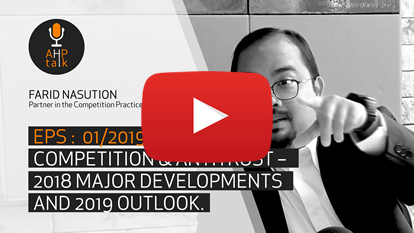 ***
AHP Client Alert is a publication of Assegaf Hamzah & Partners. It brings an overview of selected Indonesian laws and regulations to the attention of clients but is not intended to be viewed or relied upon as legal advice. Clients should seek advice of qualified Indonesian legal practitioners with respect to the precise effect of the laws and regulations referred to in AHP Client Alert. Whilst care has been taken in the preparation of  AHP  Client Alert, no warranty is given as to the accuracy of the information it contains and no liability is accepted for any statement, opinion, error or omission.