Dear our valued clients,
As a part of our support to the government's fight against Covid-19, as well as our responsibilities to our team, communities, those who are vulnerable and the healthcare providers who are on the front line of this pandemic, all of our team is working from home starting Tuesday, 17 March 2020.
This is simply an extension of our earlier announcement of "Workforce Segregation", which was sent on 16 March 2020.
While there is no doubt that this situation is unprecedented, our service to our clients remains a priority.
If you have any question or concern, please contact the partner in charge of your matter.
Best regards,
Assegaf Hamzah & Partners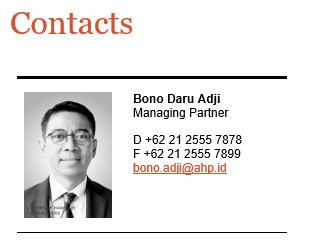 ***
AHP Client Alert is a publication of Assegaf Hamzah & Partners. It brings an overview of selected Indonesian laws and regulations to the attention of clients but is not intended to be viewed or relied upon as legal advice. Clients should seek advice of qualified Indonesian legal practitioners with respect to the precise effect of the laws and regulations referred to in AHP Client Alert. Whilst care has been taken in the preparation of  AHP  Client Alert, no warranty is given as to the accuracy of the information it contains and no liability is accepted for any statement, opinion, error or omission.